We are back at it with GSS Presents PPV series. This time we are working with Paco Presents and Fabrica De Campeones. They have put together a great fight card for fight fans. This is the second in their weekday boxing series. This is our first Tuesday night fight so we are hoping that we can get a lot of viewership to support all the fighters. This card is only in Spanish for viewers. (Esta tarjeta está solo en español para espectadores.) Next show we are hoping to have our English speaking broadcaster back at the venue.
Click here to download the full bout sheet:
FRANCISCO JAVIER LOPEZ vs IVAN LEON BENITEZ Bout Sheet
Presented by Don Chargin Productions, Paco Presents, and Fabrica De Campeones
Tuesday, December 8th, 6 pm pst
Fight Card
Main Event 10 Round Lightweight
FRANCISCO JAVIER LOPEZ vs IVAN LEON BENITEZ
Co-Main Event 10 Round Bantamweights
ALEJANDRO SANTIAGO vs ERICK GONZALEZ
8 Rounds Super Featherweights
CRISTIAN CRUZ vs FRANCISCO ALARCON
6 Rounds Featherweights
FRANCISCO JULIAN RODRIGUEZ vs JONATHAN GIOVANNI TORRES
6 Rounds Flyweights
BRYAN LUNA vs JOSE GIOVANNY PINEDO
6 Rounds Flyweights
DANNY ANDUJO vs FELIPE AYON DIMAS
6 Rounds Featherweights
ANTHONY REYES vs JOSE GUEVARA
4 Rounds Featherweights
CHRISTIAN EDUARDO SANTIAGO vs MIGUEL ALEJANDRO PEREZ
We will be back in 2021 with even more fight cards. After a busy 2020 we are looking forward to a busier 2021 with even better fights for fight fans.
Where to watch the show
Watch at www.bestinboxing.com and subscribe to exclusive content sports content right here on  www.globalsportsstreaming.com We broadcast live on Fight Hub TV on YouTube.
We do multipoint streaming so that there are plenty of locations for you to watch Best in Boxing.
Where to watch?
1. Fight Hub TV on Youtube youtube.com/fighthub
6. www.globalsportsstreaming.com
Plenty of places for you to watch the live stream
Follow us at:
https://twitter.com/BestInBoxing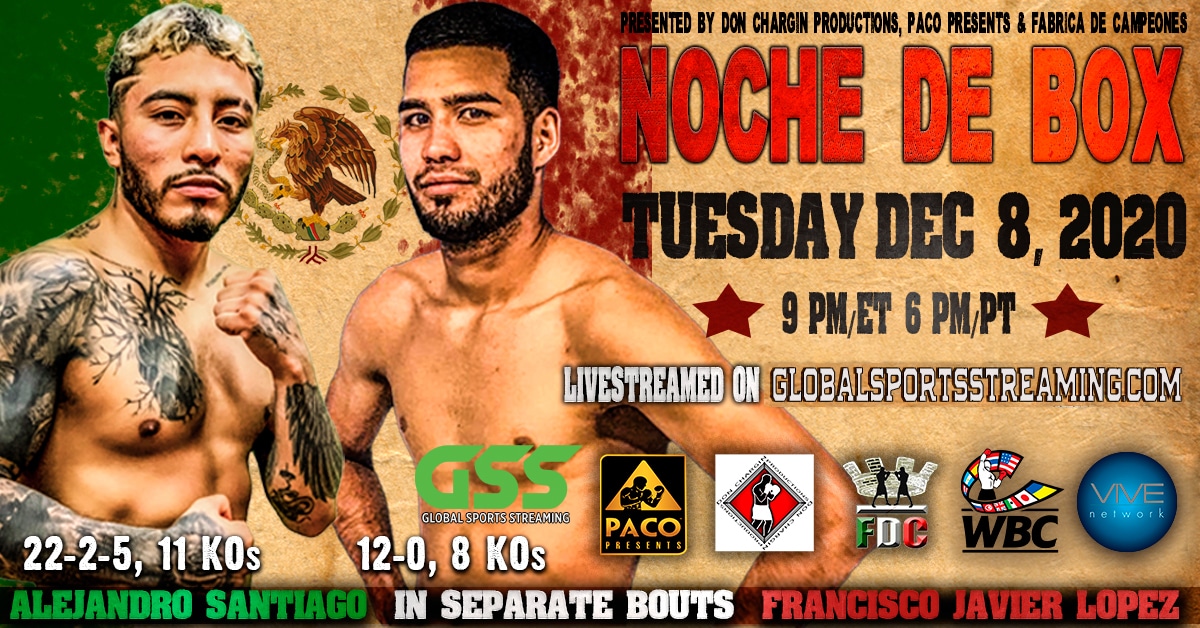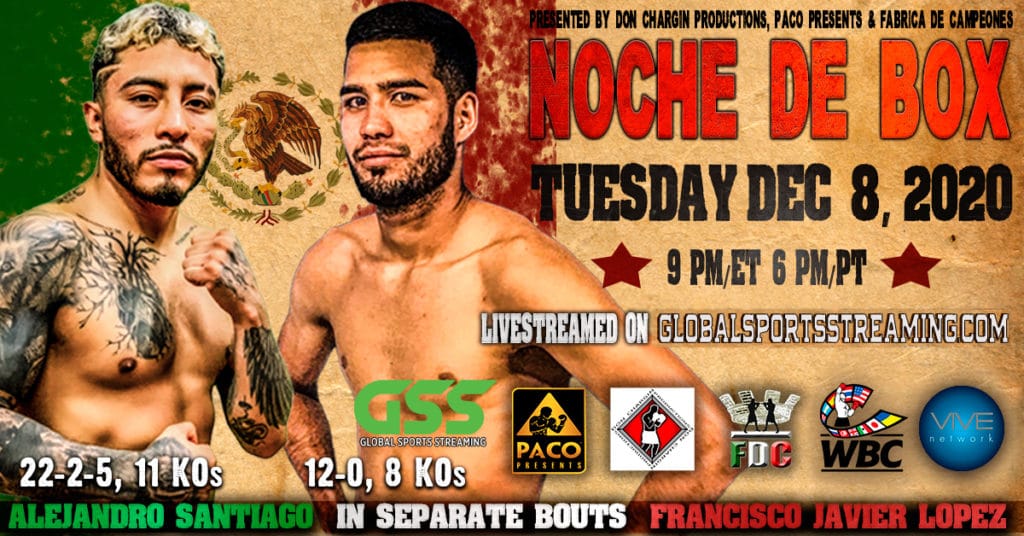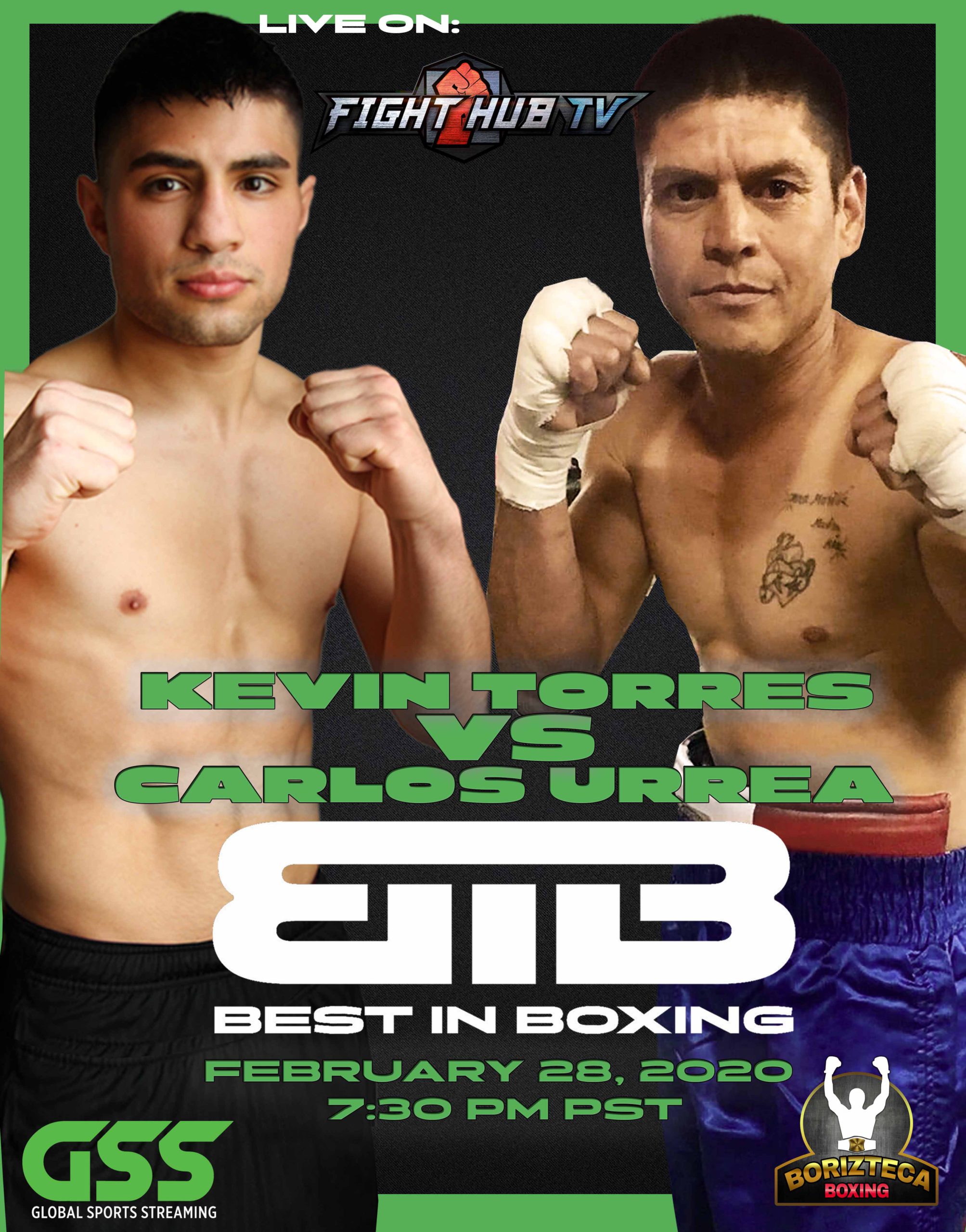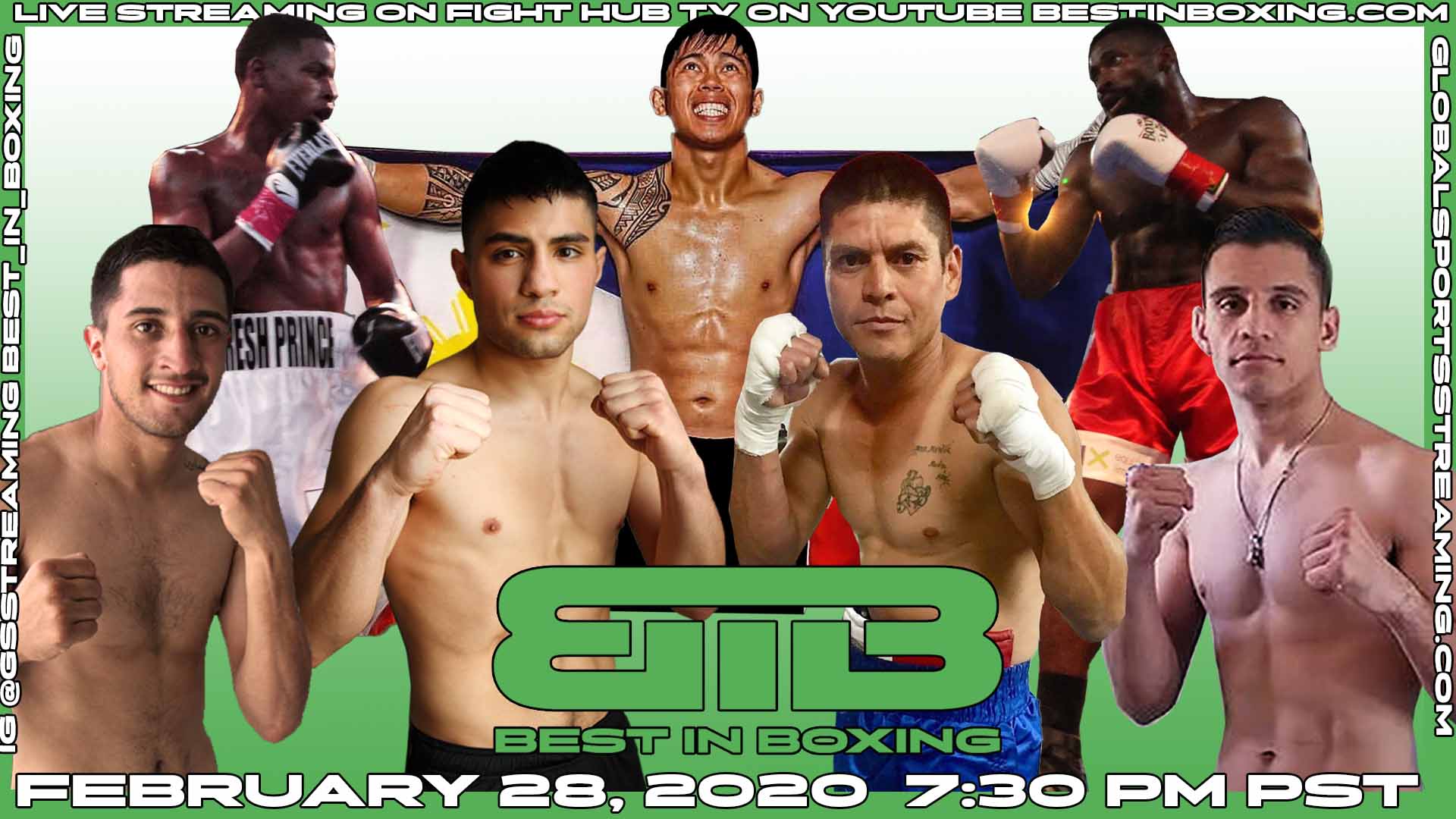 We are back for our first fight night of 2020 with Borizteca Boxing Promotions. We are broadcasting on Fight Hub TV on Youtube. We have a great partnership with Fight Hub and we are able to showcase fighters just starting out in their careers to over 750,000 subscribers. Our February 28th show starts at 7:30 PM PST live from Big Punch Arena in Tijuana, Mexico. We have a great first card of the year with the return of Kevin Torres in our main event. Kevin takes on veteran fighter Carlos Urrea. At 15-1-1 Kevin Torress is getting to the point where he needs to test his skill level to prepare for the tough fights ahead. Carlos has fought 38 times and is known as a tough fighter that gives a good fight and helps with the development of fighters on the rise.
Continue reading February 28TH BEST IN BOXING IS BACK ON FIGHT HUB TV →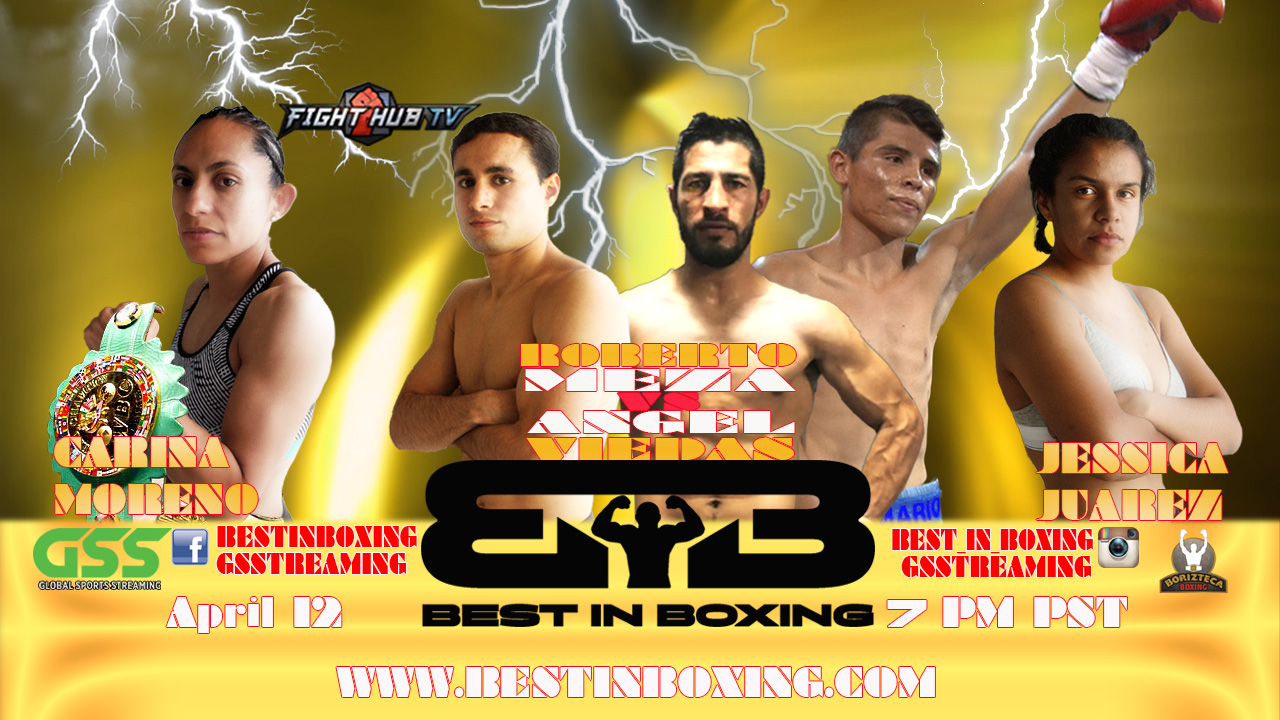 Roberto Meza at 12 and 1 is looking to take a step up in competition. Before this fight was put together his team approached Borizteca Boxing Promoter Saul Rios asking for a step up in competition. They took a look at Angel Viedas https://youtu.be/wUvt-Y2iMHs who fought on Best in Boxing on February 15 Fight Night Friday card. They liked what they saw and believed they could beat Angel. The fight got done a couple of weeks later and now Roberto will be facing the veteran who has a great record of 23-9-1. At 31 Angel is looking to make some moves himself and beat this up and coming prospect. Angel looked sharp in his last fight and does not plan on being a stepping stone to Roberto.
Best in Boxing has brought back Five time World Champion Carina Moreno. Her fight against Cinthia Martinez will be her second fight in her comeback after her five-year retirement. She never lost the hunger to fight and never stopped training, even after retirement. She is looking to make another run at a title and is excited about the reason exposure female boxers are receiving in the US. She hopes to make some big paydays on the way to another title.
We have some heavyweight action on the card with Big George Thompson. George approached Founder and President of Global Sports Streaming, Armando Bareno, and asked if he'd give George the opportunity to fight. George's record is 2 wins and 3 losses and he is 42 years old. Most promoters wouldn't touch George because of his age, record and he's a 250-pound southpaw. Mr.Bareno, always looking to give fighters an opportunity talked with Saul Rios (Borizteca) about finding him an opponent in Mexico to fight. It took over a year and a half to find a slot on a card and now finally George is getting his opportunity to fight. "Best in Boxing was started to help fighters just like George when other outlets won't give fighters like him a chance." George is certainly looking to make the most of his opportunity.
Here is the full fight line up:
ROBERTO MEZA vs ANGEL VIEDAS
CARINA MORENO vs CINTHIA MARTINEZ
MARIO RAMIREZ vs JOSE EDUARDO POOM
BRANDON VALDES vs ALEJANDRO ZARATE
GIOVANNIE GONZALEZ vs TBA
MARIO AGUIRRE vs JESUS OTERO
GEORGE THOMPSON vs ALEJANDRO GARDUñO
MANUEL JAIMES vs NOE ONTIVEROS
JOSE MARIA CARRILLO vs TBA
And special attraction Dewayne Beamon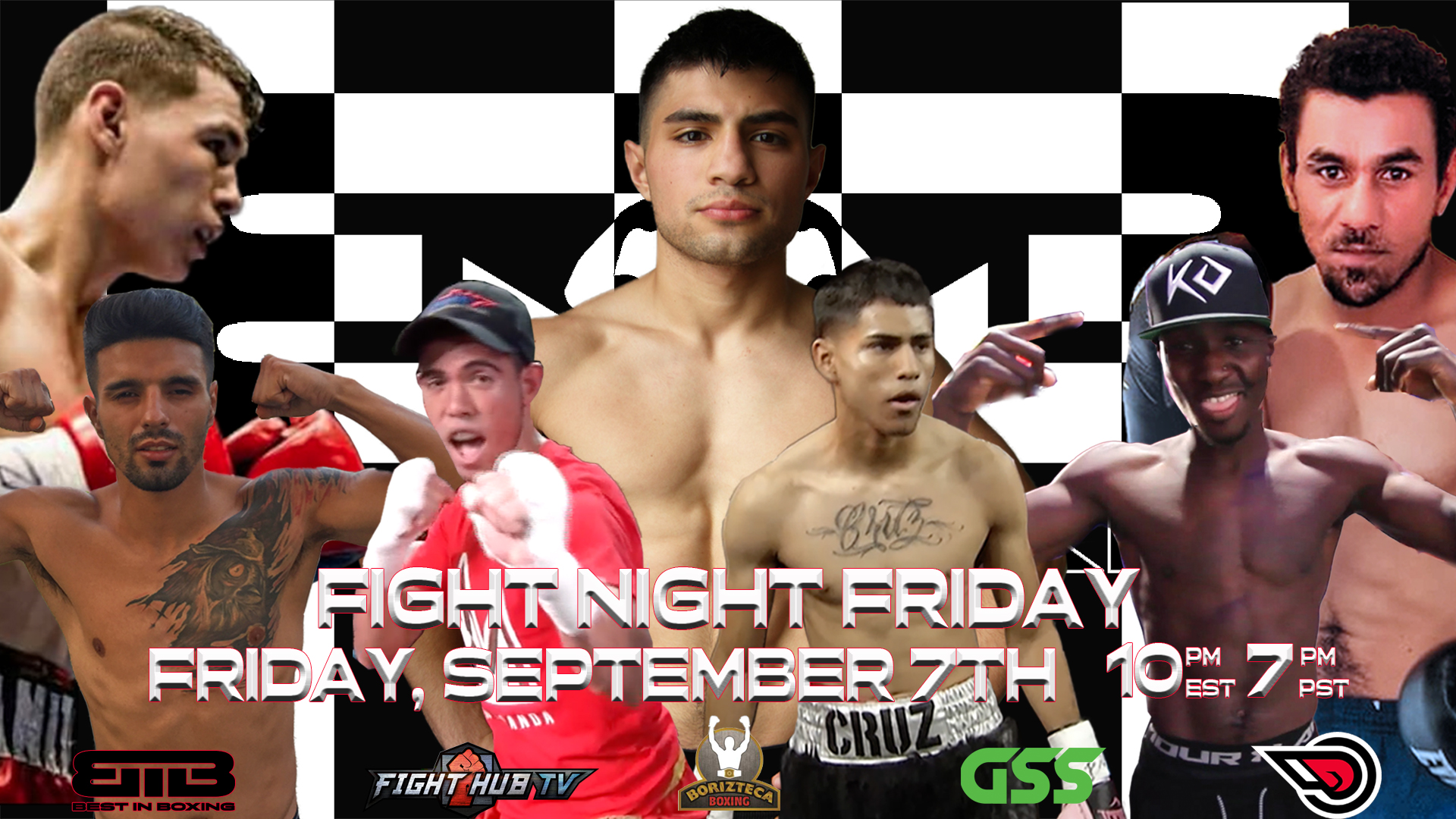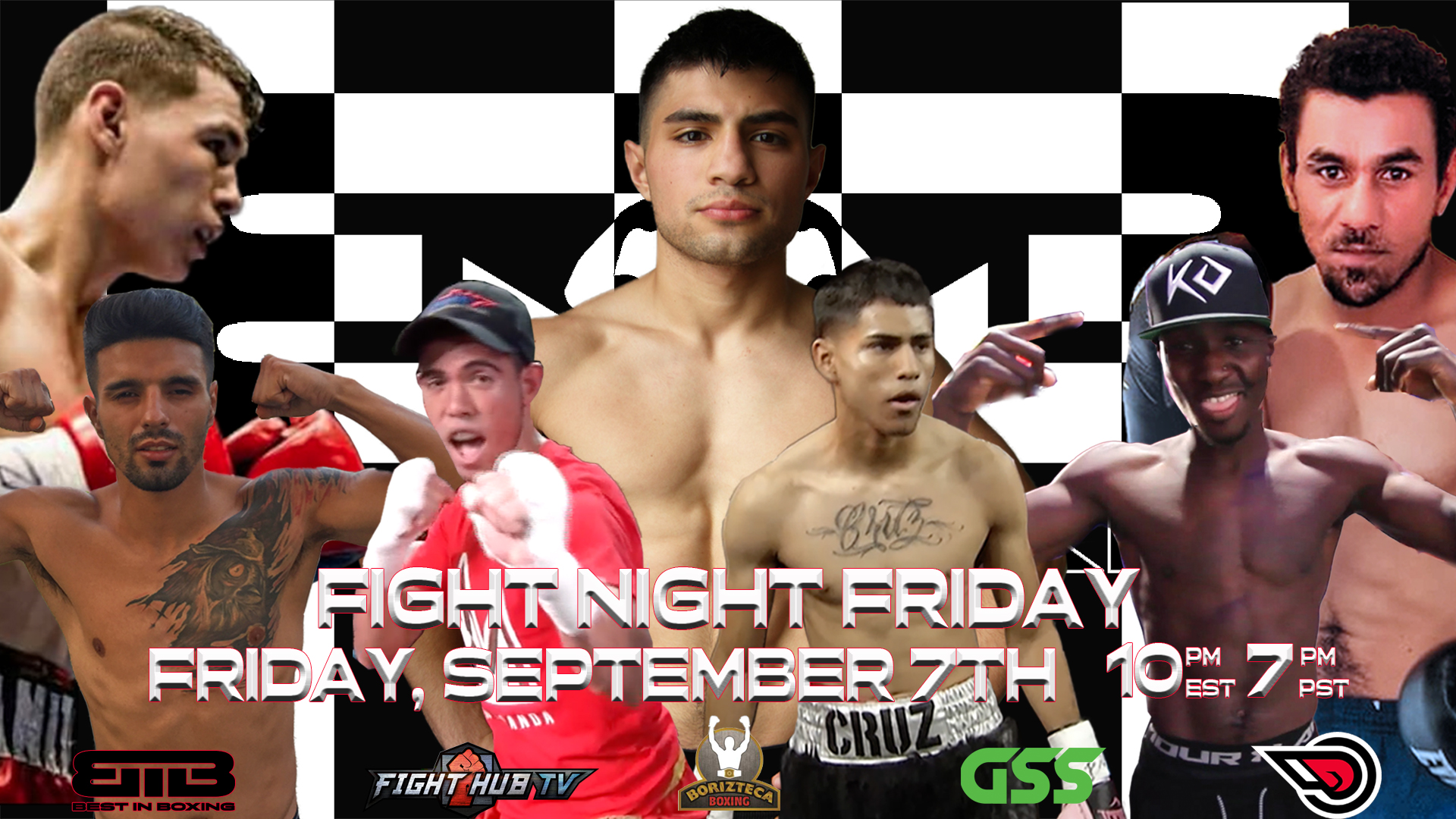 We have 10 fights for your viewing pleasure.
We have an amazing line up of 10 fights on this Fight Night Friday broadcast.
In the main event, we have some great superfly weight action with Alejandro Espinoza vs Andres Garcia.
In the co-main event, GILBERTO MENDOZA vsGEOVANI ANDRADE The winner of both fights could be in the ring against each other.
Also on the card
GEOVANI ANDRADE vs LUIS LUNA
KEVIN OTTLEY vs JOSE LOZOLLA
BRANDON CRUZ vs CARLOS RANGEL
DILAN MIRANDA vs JOSE RODRIGUEZ
ERICK ESTRADA vs JAVIER MIRANDA
JOSE DE LA TORRE vs JULIO ALCANTAR
MARCO ARROYO vs GERARDO YESCAS
Great action from Tijuana Mexico for you guys on Fight Hub TV
Tune in at 7 PM PST for the start of our broadcast.
Watch our shows on bestinboxing.com and subscribe to exclusive content sports content at gsstreaming.com We broadcast live on Fight Hub TV right here on Youtube youtube.com/fighthub
Youtube.com/bestinmma
Follow us at instagram.com/gsstreaming
instagram.com/bestinboxing
facebook.com/bes_tin_boxing
facebook.com/gsstreaming
twitter.com/bestinboxnig
twitter.com/gsstreaming
We'd also like to thank Borizteca Boxing for all their support with building Best in Boxing. Follow them at borizteca.com
Follow Fight Hub TV at youtube.com/fighthub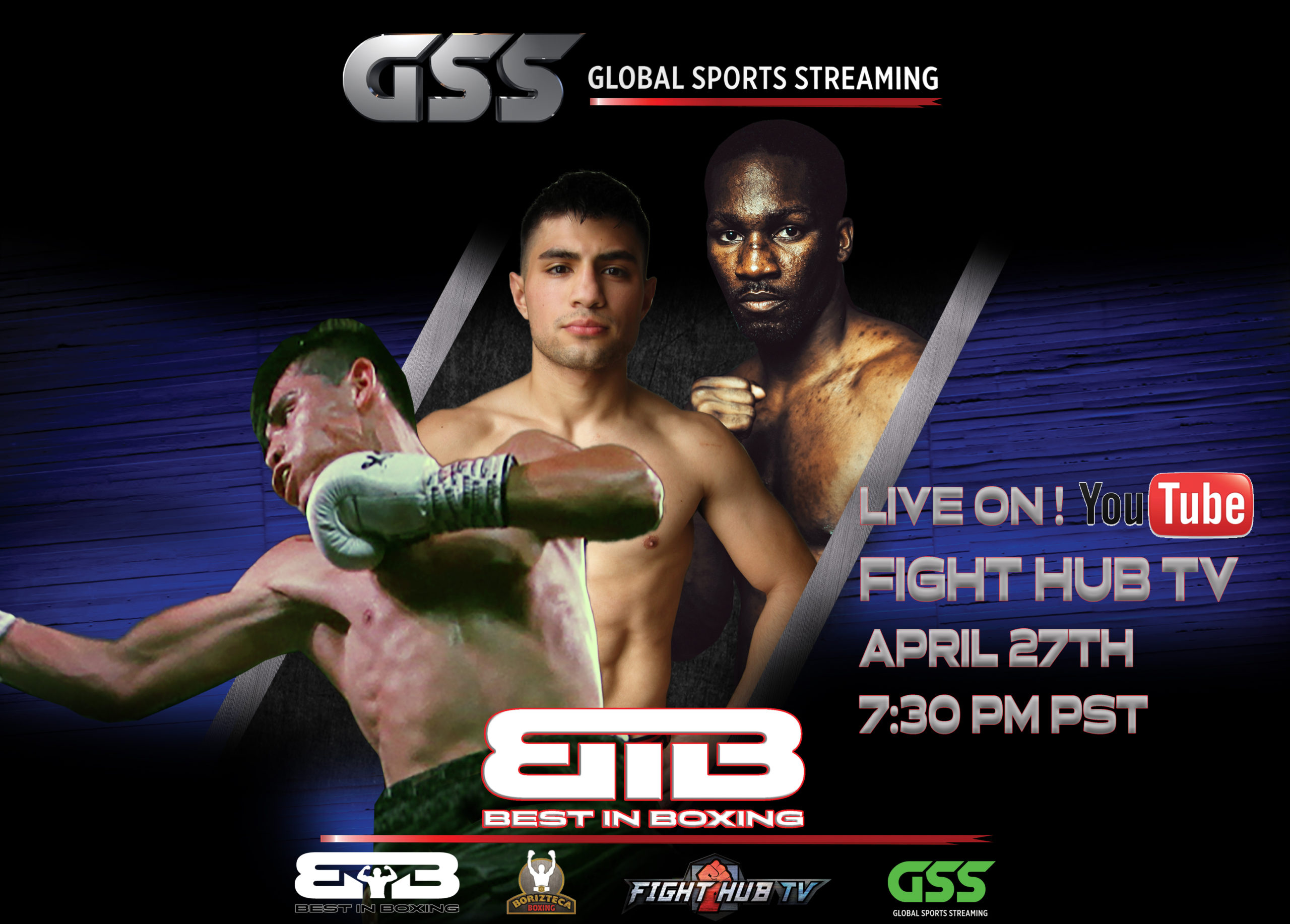 Two Warriors Meet In The Best In Boxing Ring
If you missed Best in Boxing on Fight Hub on YouTube you missed a great night of boxing. There was great action in the ring from start to finish but the fight of the night definitely has to go to Mario Ramirez vs Ramiro Ceseña. These two warriors battled it out for six nonstop rounds of action. Normally fighters who've not seen each other before take a round or two to figure each other out. In boxing, they are called the feeling out rounds. Ramirez and Ceseña must have skipped class on the day their trainers were teaching how to take your time in boxing. From the opening bell, both these fighters were throwing serious leather with really bad intentions. If you've not seen Mario Ramirez fight before he fights really well from the outside with his long reach but knows how to get on the inside and bang to the body. He is not your typical Mexican fighter in that he can mix up boxing with an aggressive "Mexican Style". He's not afraid to trade punches with anyone and has an iron chin that makes the possible. Mario is only 19 and is quickly learning on the job. As most 19-year-olds He tends to throw caution to the wind and has no problem trying to prove his chin is tougher than his opponents. Some would say he has a tendency to block punches with his head but at this point in his career he still has much to learn about boxing.
Ramiro Ceseña at 3-0 coming into the fight was a surprise to everyone by the time the fight was done. Ceseña at only 18 years old is also learning on the job but shows maturity beyond his 3 and 0 record. He is naturally bigger than Ramirez and dropped weight to meet Ramirez at the 130-pound limit. Boxing seems to come naturally to Ceseña as he demonstrated the ability to sit down on his punches and time Ramirez like a crafty veteran. One of the major weapons Ceseña seemed to demonstrate was the power in his punches. Sitting down on his punches seemed to generate a great deal of power that would have dropped a less skilled fighter than Ramirez.
Both fighters put their skills on full display as both wouldn't back down from each other giving as good as they were getting. Ramirez style works off of the jab and has the ability to fire off four and five punch combinations before his opponents can fire back. Ceseña learned quickly to weather the storm from Ramirez and return punches immediately after as Ramirez has a tendency to stay in the pocket a little longer than he should. The first round could have been scored for either fighter but the second round belonged to Ceseña as he was more aggressive, timed Ramirez correctly and continued to be aggressive shortening the distance whenever possible. Ceseña picked up quickly that staying on the outside would not be a great recipe for success. Ramirez made adjustments coming into the third round and took the round by outworking Ceseña and staying on the outside whenever possible. Both fighters adjusted brilliantly to each other as they came out for each round. Ceseña took the fourth round by being more aggressive, closing the distance on Ramirez and landing the cleaner shots. Ramirez adjusted again in the fifth as Ceseña seemed to be resting for the sixth round. The sixth round ended up being the best round of the night as both fighters came in to win the fight. About a minute in the dynamic of the fight changed as the referee deducted a point from Ceseña for a low blow. Fans booed and rightfully so as there is usually a warning before a referee will take a point for a low blow. Now the replay did catch multiple times Ceseña hitting Ramirez below the belt but none of those low blows were ever caught by the referee and he was never warned earlier in the fight. This seemed to enrage Ceseña as he attacked Ramirez relentlessly as soon as the fight resumed. In the first attack by Ceseña after the restart, he hit paydirt with a left punch right down the middle hitting Ramirez below the ribcage. Ramirez immediately went down to a knee as he gasped to regain the oxygen that left his body from the punch. Ramirez took his eight count got back to his feet and prepared to restart still trying to regain his lost oxygen. Ceseña attacked again hoping to finish the fight before the end of the sixth round. Mario backed up trying to get Ceseña off of him with a jab here and there as Ceseña threw everything he had at him. To Mario's credit and conditioning he was able to regain his breath and within a minute looked like himself again. He began to counter and fire off three and four punch combinations as the fight drew to a close. When the bell rang both fighters had given it their all and it was in the hands of the judges. To find out what happened and to see the fight for yourself go to Fight Hub TV on Youtube or bestinboxing.com to watch the full fight and see the decision.
We are looking forward to a great night of action with an amazing main event with fighter Dewayne Beamon vs Angel Ramos. Both fighters are action fighters and we are predicting this won't go to the scorecards. Both fighters see this fight as a stepping stone to much bigger fights in the future. Dewayne is known as "Easy" Beamon because he makes it look easy and Angel is known as "Diablito" "Little Devil" Ramos for his aggressive all-action style. This is a main event you don't want to miss.
The fights are as follows:
BESTINBOXING.COM PPV $2.99
9 PM PST
MAIN EVENT
DEWAYNE BEAMON 13-0 vs ANGEL RAMOS 22-1-1
ARMANDO TOVAR 8-1 vs JORGE VALENZUELA 6-1
MARIO "GUERO" RAMIREZ 9-1 vs JORGE LUIS BABUCA 5-24-2
KEVIN TORRES 6-0-1 vs CRISTOPHER GARCIA 0-1
ROBERTO MEZA 8-1 vs JAVIER MERAZ 6-10-1
FIGHT HUB TV ON YOUTUBE (FREE)
YOUTUBE.COM/FIGHTHUB
7 PM PST
MAIN EVENT
SIMON TORRES vs GIOVANNI PONCE
BRANDON VALDEZ vs JONATHAN PEREZ
BRANDON CRUZ vs MARIO DIAZ
ALIMKHAN JUMAKHANOV vs SAUL GONZALEZ
DILAN MIRANDA vs CARLOS ESCOBEDO
OSVALDO HERNANDEZ vs MANUEL GUILLEN
YAHO GABRIEL BLACKWELL vs ESTEBAN SOSA
JORGE MUñOZ, JR vs GABRIEL VILLAR (Swing)
Download Official Bout Sheet:
Feb 16 Fight Card

Dewayne Beamon http://boxrec.com/en/boxer/728230 is an exciting up and coming fighter who is looking to make his mark in the sport of boxing. His fight was a last-minute add-on to our November 17th card. Because the option to put Beamon on the card came during the fight week he was matched up against Zenon Venancio http://boxrec.com/en/boxer/731118. Venancio proved overmatched in the fight as Dewayne attempted to get some rounds in and look impressive. Venancio after a couple good shots from Deamon looked hesitant to engage and the fight was stopped early in the second round. We are looking forward to having Dewayne back on our next car in February.
We are looking at our next date happing February 16th at the Salon Mezzanine in Tijuana Mexico https://goo.gl/maps/5oNiQFiYfYv The fights again will be on bestinboxing.com starting at 7 pm pst and 10 pm est. We are hoping to be able to announce the main event in the next couple of weeks. Looking forward to a big card to kick off the new year! In the new year, we are looking to expand our boxing programming by working with new promoters to bring even more shows to fight fans.
Just created a new patreon.com account at patreon.com/gsstreaming where fans can get exclusive content specifically for the new platform. We are looking to raise funds to keep this show going. The broadcast game can be expensive and we are doing everything in our power to keep costs low but we also need your help to raise money so we can keep this going. If you can check out the page and subscribe to our page and donate money. We are offering free access to our pay per view shows and as we create a subscription service we plan on allowing all patreon.com
As we push to expand our social media reach we are on various platforms for followers/fans to keep up to date. Please follow us on:
twitter.com/bestinboxing
twitter.com/gsstreaming
facebook.com/gsstreaming
facebook.com/bestinboxing
youtube.com/bestinboxing
youtube.com/gsstreaming
patreon.com/gsstreaming
Instagram @gsstreaming
Instagram @best_in_boxing

The link will take you all to the final bout sheet with all the fighters weights. We only had one fighter fall out but everyone else made weight. Omar Aguilar will not be fighting Leandro Monreal. Miguel Villalobos was not able to fight. Tune in tomorrow on bestinboxing.com and watch all 13 fights live.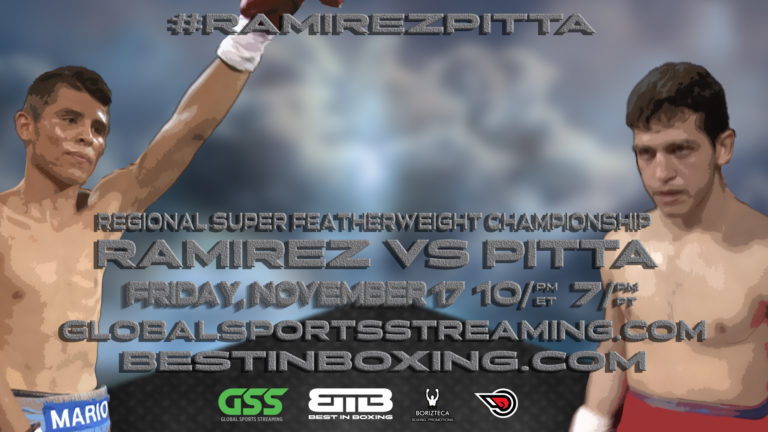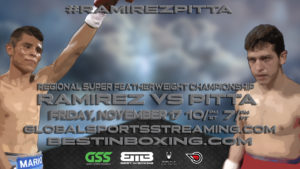 Best in Boxing:
November 17th is fast approaching and we are looking forward to a great night of action.
Here is the fights on the card:
Main event
(12) MARIO "GUERO RAMIREZ vs  ALFREDO PITTA
(11) RICARDO VALDOVINOS vs ALEJANDRO CASTAñEDA
(10) RAFAEL RAMIREZ vs MANUEL GARCIA *Special Attraction
(9) DEWAYNE BEAMON vs SAMUEL MENDIA *Special Attraction
(8) JUAN MIRANDA vs JESUS OSUNA
(7) BRANDON CRUZ vs MARIO YAEL DIAZ
(6) GILBERT GARCIA vs ENRIQUE VELAZQUEZ
(5) MARIO RAMOS vs ISAAC GALINDO
(4) JESSE "BAM" RODRIGUEZ vs JORGE MOSQUEIRA
(3) MULAPI ENJANI vs ADRIEL OSUNA
(2) JOSE MARIA DELGADO vs ISRAEL PINEDA
(1) LUCAS SANTA MARIA vs FERMIN CAñEDO
You can click on the link to download the bout sheet
Couple highlights for the fight night. Jose Maria Delgado and Jesse "Bam" Rodriguez are trained by Robert Garcia. Rafael Ramirez is part of The Money Team TMT. He looks to fight his way back into contention.