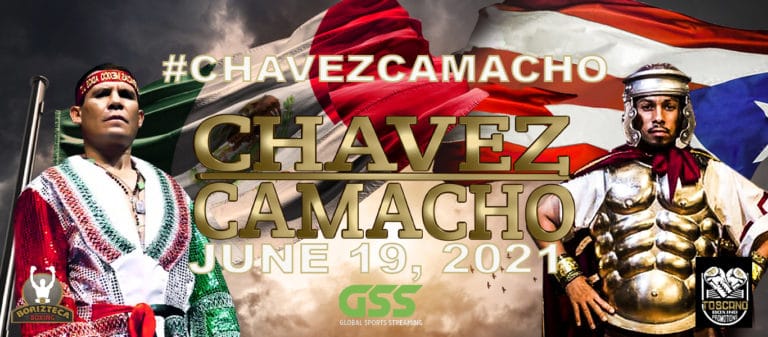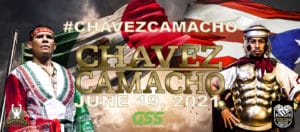 Chavez vs Camacho, Mexico vs Puerto Rico, you know the comparisons will be drawn
(Follow Sportofboxing.com for all the latest on this fight and your latest boxing news. Thank you, Sport of Boxing.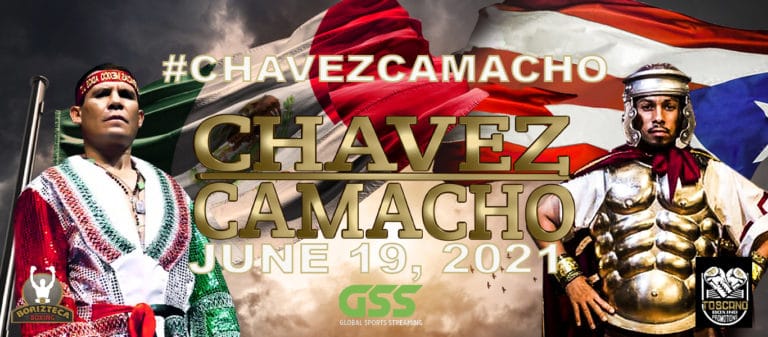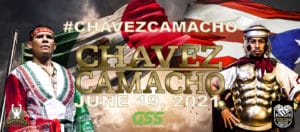 The word has certainly gotten out. The upcoming clash of the 58-year-old Julio Cesar Chavez (107-6-2, 85 KOs) of Culiacan, Sinaloa, Mexico by way of Ciudad Obregon, Sonora, Mexico accepting the challenge of the revenge-minded 42-year-old Hector "Machito" Camacho Jr. (59-7-1, 33 KOs) from New York, New York by way of San Juan, Puerto Rico is now set in stone for Saturday, June 21, 2021, in Guadalajara, Jalisco, Mexico.
It's for sure many a comparison will be made between the patriarchs and their offspring, those boxers with Mexican and Puerto Rican ancestry. It's the same way the soccer fan raves about having the best soccer team be they from Brazil, Germany or Argentina. A devout Boxing fan recognizes how foolhardy it is to compare Julio Cesar Chavez and his record to most any other boxer. His accomplishments will no doubt stand the test of time.
Still, that reality can't stop some diehards from doing their own overview of the boxers with Mexican or Puerto Rican blood. Throughout our overview, you have to remember that different times bred different results. While some boxers came off the streets, others had the very best of training from an early age or received the proper guidance through a concerned parent.
On the night of September 12, 1992, when Hector "Macho" Camacho and Julio Cesar Chavez battled it out for the WBC World Super Lightweight title it was the Macho Man who got the rare beating.
Since his father's unfortunate passing on November 24, 2012, Hector "Machito" Camacho Jr. has taken over the reins of the family and represented his family in the squared circle.
From here down we're going to attempt to give you the best possible overview of Hector Camacho Jr.'s career up to this point.
October 23, 1998, at the Trump Marina Hotel Casino in Atlantic City, the 20-year-old Hector Camacho Jr. (17-0, 10 KOs) won a unanimous decision victory, 96-92, 96-93, 95-93 over Freddy Curiel (14-3-1, 5 KOs).
December 3, 1998, Casino Magic, Bay Saint Louis, Mississippi, the 142 lb., 20-year-old Hector Camacho Jr. (18-0, 10 KOs) won a 10 round mixed decision win over Wayne Boudreaux (24-13, 13 KOs) in a Super Lightweight contest.
May 8, 1999, Miccosukee Indian Gaming Resort, Miami, Florida the 20-year-old welterweight Hector Camacho Jr. stopped the 30-year-old Roberto Nunez (15-3, 14 KOs) in the first round.
After Nunez in May of 1999, Camacho Jr. went on to defeat such notables as Miguel Angel Ruiz (21-5-1), Simon Gonzalez (25-8-2), Juan Carlos Rodriguez (36-12-2), Harold Warren (43-11), Manard Reed (20-1), Phillip Holiday (36-3-1), Joe Hutchinson (18-1-2), Rocky Martinez (34-4-1) and Larry LaCoursiere (26-8) to improve his record to 32-0, 18 KOs.
July 7, 2001, at Key Span Park, Brooklyn, New York, the 22-year-old super lightweight Hector Camacho Jr., now 32-0, 18 KOs was up 49-46, 48-47, and 49-46 after 5 rounds versus the well respected Jesse James "the Texas Tornado" Leija (42-5-2) when the bout was suddenly stopped due to a head-butt. At first, Camacho Jr. received the Technical decision win which a few days later changed to a "No Contest". Was it time to hire a lawyer?
This may have been the turning point in Camacho Jr.'s career as things started slowing down. He did fight in November, a TKO win over Eric Jakubowski (21-8) but for this fight he weighed in at 152 lbs. He was now creeping ever so close to becoming a Middleweight (154-160).
On Thursday, March 21, 2002, at the Celebrity Theater in Phoenix, Arizona, Hector Camacho Jr., at the age of 23 and weighing 147 lbs., lost his first fight, a 94-95, 94-96 and 93-96 decision loss to the visitor from Buenos Aires, Argentina, a 5'7″ tall, 141 pounder, Omar "Tito" Weis who with the win moved up to (34-3-3, 16 KOs).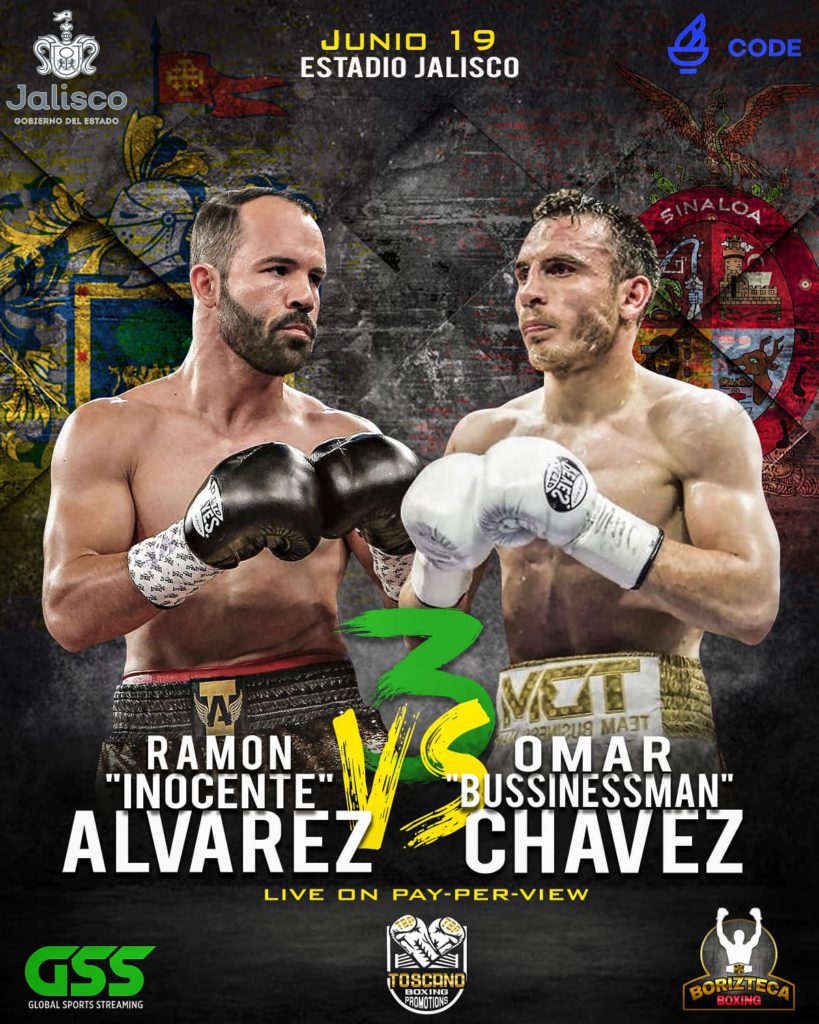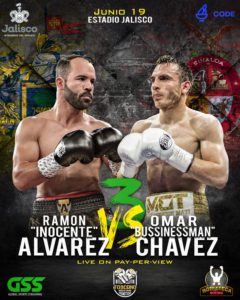 Over the years we've seen quite a few of these boxing standouts infiltrate the U. S. and oftentimes they do well because their opponent is often hand-picked. How so? Since it is an expensive proposition, the airfare, the hotel/motel stay, the hiring of a top trainer, and the proposition they worked out with the obliging promoter, a certain victory is called for. In other words, someone has to have a lot of confidence in their prospect. When it comes to Buenos Aires, Argentina, the names Marcos René Maidana, Sergio Martinez and Lucas Martín Matthysse come to mine. Like Mr. Weis, they came, they saw and they conquered. Weis' only infraction during his contest with Hector Camacho Jr.? He received a point deduction for a low blow in round #8. Otherwise, the victory was his
We are back at it with GSS Presents PPV series. This time we are working with Paco Presents and Fabrica De Campeones. They have put together a great fight card for fight fans. This is the second in their weekday boxing series. This is our first Tuesday night fight so we are hoping that we can get a lot of viewership to support all the fighters. This card is only in Spanish for viewers. (Esta tarjeta está solo en español para espectadores.) Next show we are hoping to have our English speaking broadcaster back at the venue.
Click here to download the full bout sheet:
FRANCISCO JAVIER LOPEZ vs IVAN LEON BENITEZ Bout Sheet
Presented by Don Chargin Productions, Paco Presents, and Fabrica De Campeones
Tuesday, December 8th, 6 pm pst
Fight Card
Main Event 10 Round Lightweight
FRANCISCO JAVIER LOPEZ vs IVAN LEON BENITEZ
Co-Main Event 10 Round Bantamweights
ALEJANDRO SANTIAGO vs ERICK GONZALEZ
8 Rounds Super Featherweights
CRISTIAN CRUZ vs FRANCISCO ALARCON
6 Rounds Featherweights
FRANCISCO JULIAN RODRIGUEZ vs JONATHAN GIOVANNI TORRES
6 Rounds Flyweights
BRYAN LUNA vs JOSE GIOVANNY PINEDO
6 Rounds Flyweights
DANNY ANDUJO vs FELIPE AYON DIMAS
6 Rounds Featherweights
ANTHONY REYES vs JOSE GUEVARA
4 Rounds Featherweights
CHRISTIAN EDUARDO SANTIAGO vs MIGUEL ALEJANDRO PEREZ
We will be back in 2021 with even more fight cards. After a busy 2020 we are looking forward to a busier 2021 with even better fights for fight fans.
Where to watch the show
Watch at www.bestinboxing.com and subscribe to exclusive content sports content right here on  www.globalsportsstreaming.com We broadcast live on Fight Hub TV on YouTube.
We do multipoint streaming so that there are plenty of locations for you to watch Best in Boxing.
Where to watch?
1. Fight Hub TV on Youtube youtube.com/fighthub
6. www.globalsportsstreaming.com
Plenty of places for you to watch the live stream
Follow us at:
https://twitter.com/BestInBoxing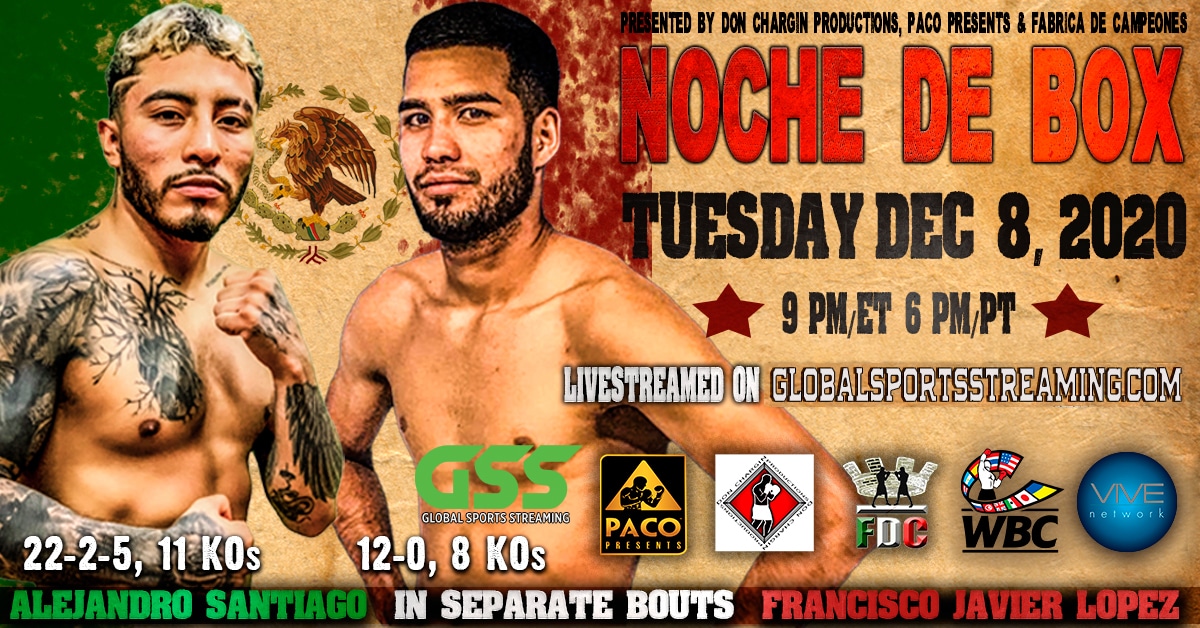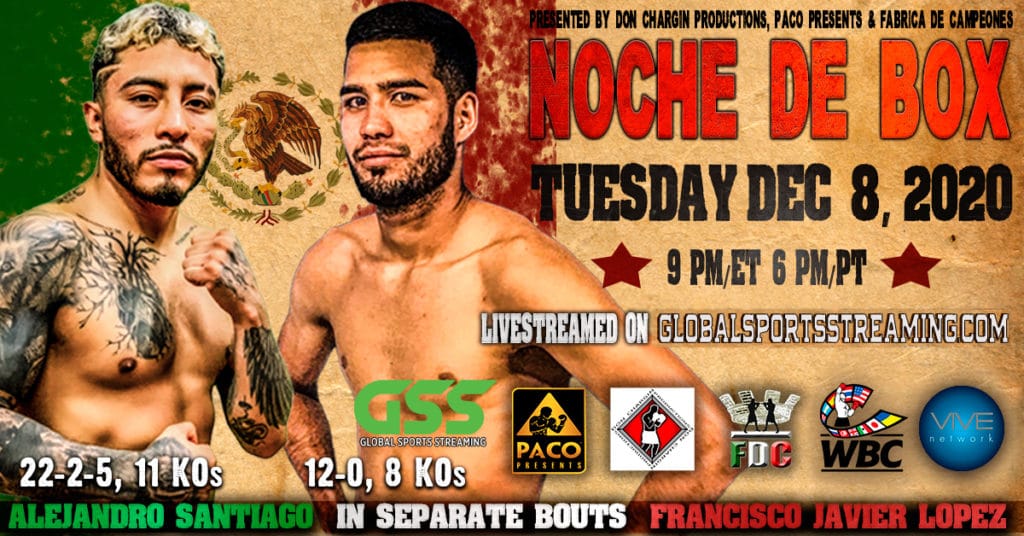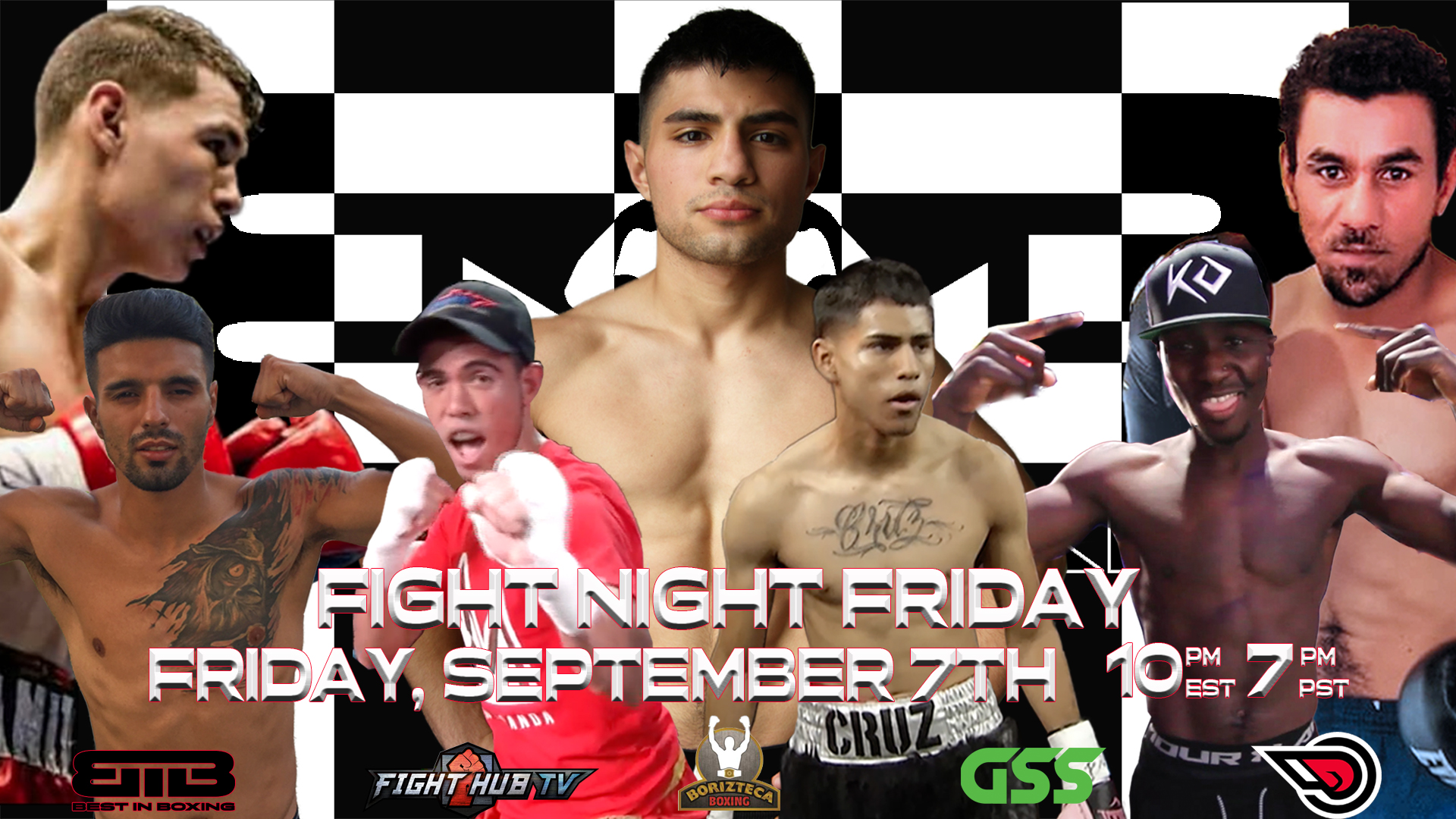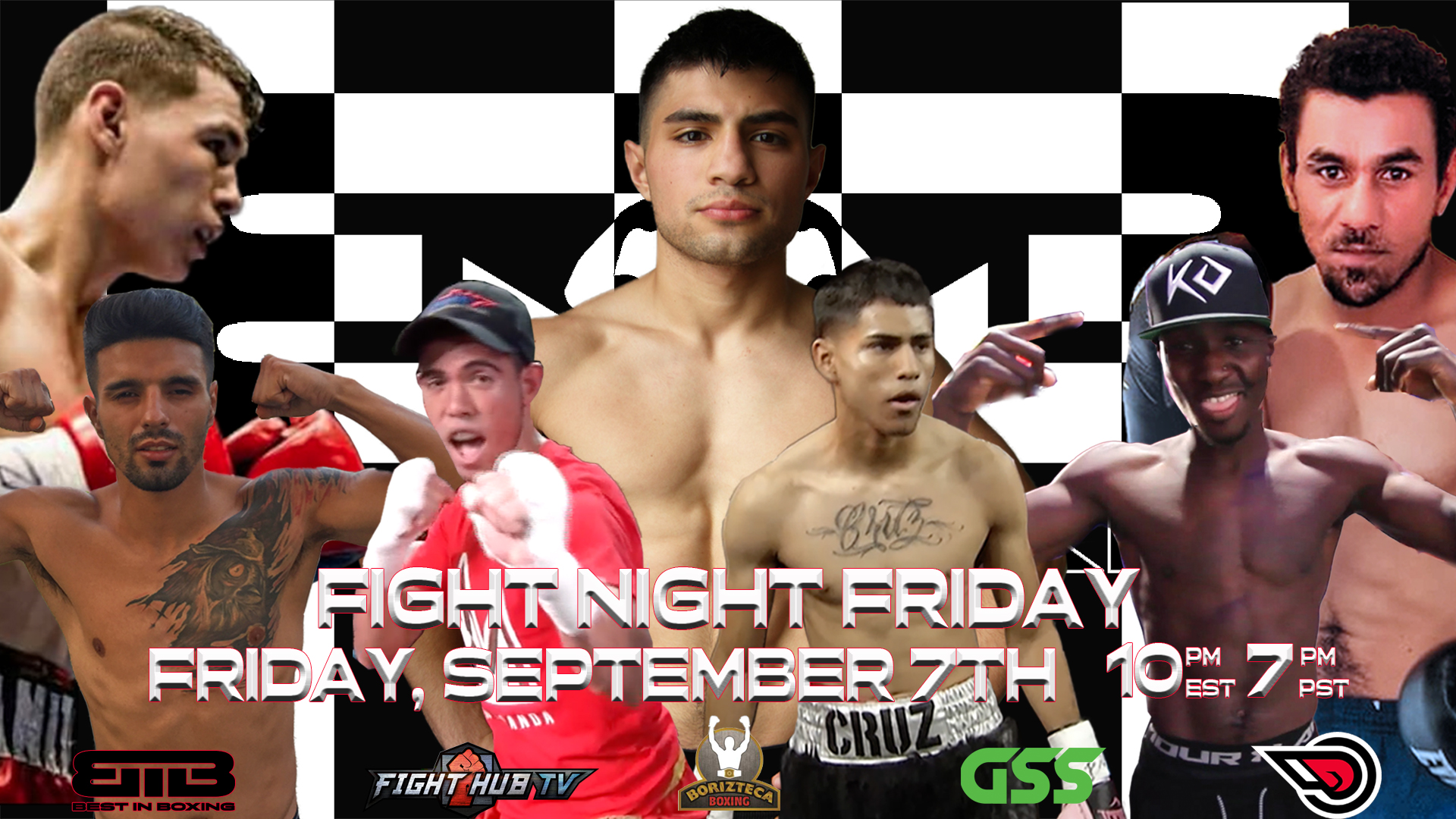 We have 10 fights for your viewing pleasure.
We have an amazing line up of 10 fights on this Fight Night Friday broadcast.
In the main event, we have some great superfly weight action with Alejandro Espinoza vs Andres Garcia.
In the co-main event, GILBERTO MENDOZA vsGEOVANI ANDRADE The winner of both fights could be in the ring against each other.
Also on the card
GEOVANI ANDRADE vs LUIS LUNA
KEVIN OTTLEY vs JOSE LOZOLLA
BRANDON CRUZ vs CARLOS RANGEL
DILAN MIRANDA vs JOSE RODRIGUEZ
ERICK ESTRADA vs JAVIER MIRANDA
JOSE DE LA TORRE vs JULIO ALCANTAR
MARCO ARROYO vs GERARDO YESCAS
Great action from Tijuana Mexico for you guys on Fight Hub TV
Tune in at 7 PM PST for the start of our broadcast.
Watch our shows on bestinboxing.com and subscribe to exclusive content sports content at gsstreaming.com We broadcast live on Fight Hub TV right here on Youtube youtube.com/fighthub
Youtube.com/bestinmma
Follow us at instagram.com/gsstreaming
instagram.com/bestinboxing
facebook.com/bes_tin_boxing
facebook.com/gsstreaming
twitter.com/bestinboxnig
twitter.com/gsstreaming
We'd also like to thank Borizteca Boxing for all their support with building Best in Boxing. Follow them at borizteca.com
Follow Fight Hub TV at youtube.com/fighthub
We are excited to be broadcasting again live on June 22nd at 7PM PST 10 PM EST on youtube.com/fighthub and www.bestinboxing.com
In the main event, we have
MARCOS FORESTAL vs DANIEL VEGA
in the Co-Main event, we have
RAFAEL RAMIREZ vs RAMON BARAJAS
also on the card
TONY HIRSH vs MANUEL GARCIA SILVA
RICARDO VALDOVINOS vs ESTEBAN CAYETANO
ROBERTO MEZA vs MANUEL SANDOVAL
KEVIN TORRES vs SANTIAGO ARREOLA
BRANDON CRUZ vs EMANUAL ZEPEDA MOLINA
DILAN MIRANDA vs JOSE HERNANDEZ
ALAN GALINDO VS JESUS RIZO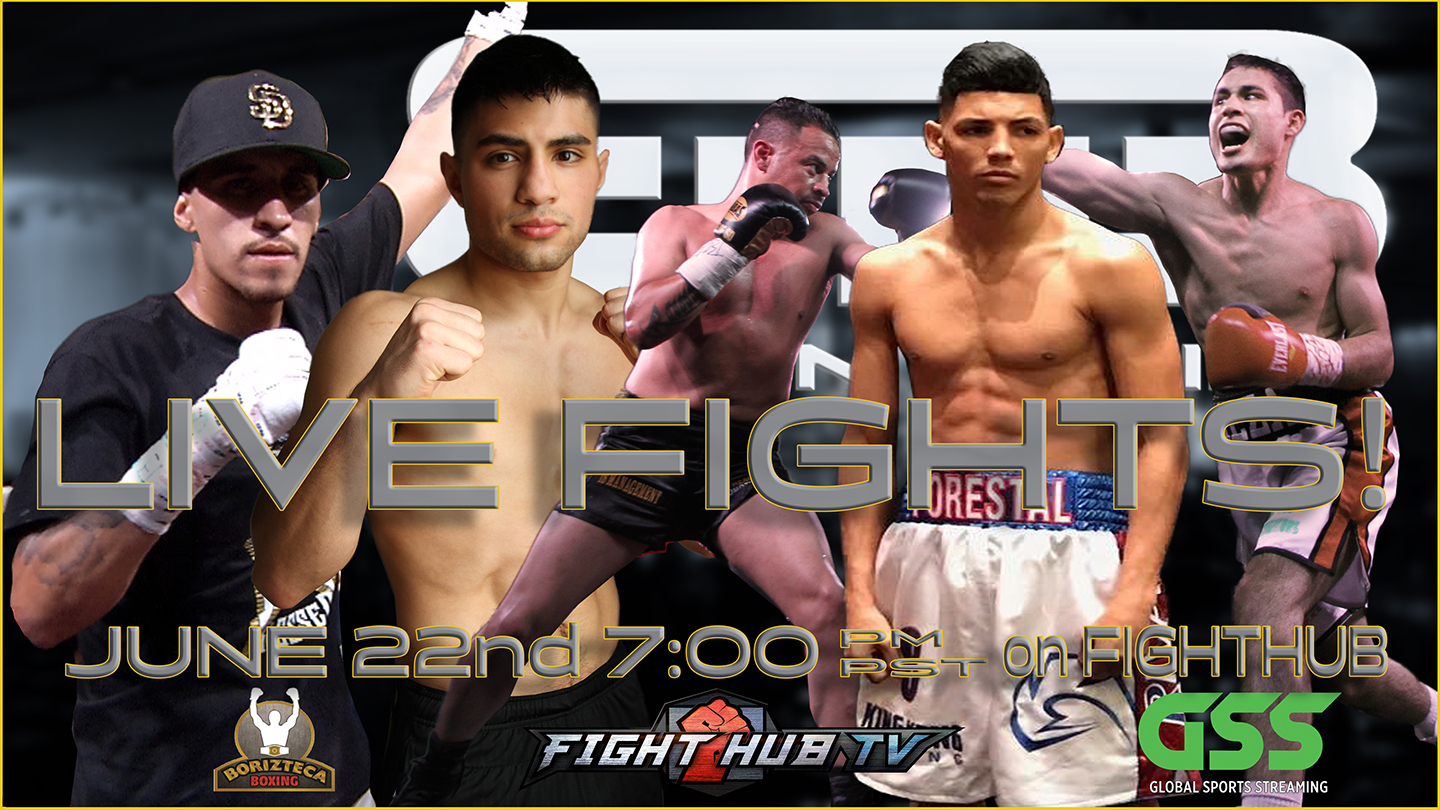 June 22md brings live boxing back to www.bestinboxing.com and Fight Hub TV youtube.com/fighthub with nine live fights from Tijuana Mexico.
On the card: In the main event
MARCOS FORESTAL vs DANIEL VEGA
in the Co-Main event, we have
RAFAEL RAMIREZ vs RAMON BARAJAS
also on the card
TONY HIRSH vs MANUEL GARCIA SILVA
RICARDO VALDOVINOS vs ESTEBAN CAYETANO
ROBERTO MEZA vs MANUEL SANDOVAL
KEVIN TORRES vs SANTIAGO ARREOLA
BRANDON CRUZ vs EMANUAL ZEPEDA MOLINA
DILAN MIRANDA vs JOSE HERNANDEZ
ALAN GALINDO VS JESUS RIZO
Tune in at 7 PM PST / 10 OM EST for the start of the live fights. We have great fight action you don't want to miss.
Best in Boxing group the sport of boxing one fight at a time!
Click the link for the Bout Sheet
BOUT SHEET JUNE 22, 2018 FINAL
We are looking forward to a great night of action with an amazing main event with fighter Dewayne Beamon vs Angel Ramos. Both fighters are action fighters and we are predicting this won't go to the scorecards. Both fighters see this fight as a stepping stone to much bigger fights in the future. Dewayne is known as "Easy" Beamon because he makes it look easy and Angel is known as "Diablito" "Little Devil" Ramos for his aggressive all-action style. This is a main event you don't want to miss.
The fights are as follows:
BESTINBOXING.COM PPV $2.99
9 PM PST
MAIN EVENT
DEWAYNE BEAMON 13-0 vs ANGEL RAMOS 22-1-1
ARMANDO TOVAR 8-1 vs JORGE VALENZUELA 6-1
MARIO "GUERO" RAMIREZ 9-1 vs JORGE LUIS BABUCA 5-24-2
KEVIN TORRES 6-0-1 vs CRISTOPHER GARCIA 0-1
ROBERTO MEZA 8-1 vs JAVIER MERAZ 6-10-1
FIGHT HUB TV ON YOUTUBE (FREE)
YOUTUBE.COM/FIGHTHUB
7 PM PST
MAIN EVENT
SIMON TORRES vs GIOVANNI PONCE
BRANDON VALDEZ vs JONATHAN PEREZ
BRANDON CRUZ vs MARIO DIAZ
ALIMKHAN JUMAKHANOV vs SAUL GONZALEZ
DILAN MIRANDA vs CARLOS ESCOBEDO
OSVALDO HERNANDEZ vs MANUEL GUILLEN
YAHO GABRIEL BLACKWELL vs ESTEBAN SOSA
JORGE MUñOZ, JR vs GABRIEL VILLAR (Swing)
Download Official Bout Sheet:
Feb 16 Fight Card
On Friday evening (November 17, 2017) at the Salon Mezzanine Hall in Tijuana, unquestionably the Bout of the Night on the 13-bout Borizteca Boxing Promotions fight card had to be the thriller between Ricardo Valdovinos (5-0) from San Diego and Alex Castaneda (3-1) from Rosarito. The two super featherweights literally banged heads for six-plus, action-packed rounds. You heard that right. With everyone so wrapped up in watching this fight, to include the meticulous timekeeper, the bell to end the final round didn't sound until almost two minutes (actually 1 minute and 51 seconds) past the regulated three minutes.
From the opening bell, both Alejandro Castaneda (l) and Ricardo Valdovinos (r) were throwing punches with bad intentions.
Why was everyone so caught up in Bout #12? For one thing, Valdovinos had promised to knock his opponent out. Second, the mention of that boast must have reached Alex Castaneda and had him training extra hard. Third, during the match, it appeared the treacherous Castaneda made four separate attempts to maliciously headbutt Valdovinos and five, both men were known for their Mexican style of fighting – that in-your-face, banging away at your opponent without letting-up.
Masterfully set up, Ricardo Valdovinos' left hook caught Alex Castaneda by surprise and down he went. Any lesser of a man would have stayed put on the canvas but Castaneda didn't hesitate and quickly returned to his feet.
At the conclusion of their exciting bout, veteran referee Jesus Soto raised the arm of the victorious Ricardo Valdovinos. Both men looked tired and beat up.
In the final round of this last man standing battle, Valdovinos landed what everyone believed to be the finishing blow to knock Castaneda out. But, like the energizer bunny, Castaneda quickly returned to his feet as if he had just lost his balance and not been hit by a perfectly thrown, well-leveraged left hook. In the end, all three judges had Valdovinos as their winner: one had it 58-55 and the other two had it 59-54 for Valdovinos.
To read the rest of the article head to sportofboxing.com
http://www.sportofboxing.com/2017/11/bout-of-the-night-valdovinos-vs-castaneda-at-the-latest-borizteca-boxing-show/

Dewayne Beamon http://boxrec.com/en/boxer/728230 is an exciting up and coming fighter who is looking to make his mark in the sport of boxing. His fight was a last-minute add-on to our November 17th card. Because the option to put Beamon on the card came during the fight week he was matched up against Zenon Venancio http://boxrec.com/en/boxer/731118. Venancio proved overmatched in the fight as Dewayne attempted to get some rounds in and look impressive. Venancio after a couple good shots from Deamon looked hesitant to engage and the fight was stopped early in the second round. We are looking forward to having Dewayne back on our next car in February.
We are looking at our next date happing February 16th at the Salon Mezzanine in Tijuana Mexico https://goo.gl/maps/5oNiQFiYfYv The fights again will be on bestinboxing.com starting at 7 pm pst and 10 pm est. We are hoping to be able to announce the main event in the next couple of weeks. Looking forward to a big card to kick off the new year! In the new year, we are looking to expand our boxing programming by working with new promoters to bring even more shows to fight fans.
Just created a new patreon.com account at patreon.com/gsstreaming where fans can get exclusive content specifically for the new platform. We are looking to raise funds to keep this show going. The broadcast game can be expensive and we are doing everything in our power to keep costs low but we also need your help to raise money so we can keep this going. If you can check out the page and subscribe to our page and donate money. We are offering free access to our pay per view shows and as we create a subscription service we plan on allowing all patreon.com
As we push to expand our social media reach we are on various platforms for followers/fans to keep up to date. Please follow us on:
twitter.com/bestinboxing
twitter.com/gsstreaming
facebook.com/gsstreaming
facebook.com/bestinboxing
youtube.com/bestinboxing
youtube.com/gsstreaming
patreon.com/gsstreaming
Instagram @gsstreaming
Instagram @best_in_boxing