We are back at it with GSS Presents PPV series. This time we are working with Paco Presents and Fabrica De Campeones. They have put together a great fight card for fight fans. This is the second in their weekday boxing series. This is our first Tuesday night fight so we are hoping that we can get a lot of viewership to support all the fighters. This card is only in Spanish for viewers. (Esta tarjeta está solo en español para espectadores.) Next show we are hoping to have our English speaking broadcaster back at the venue.
Click here to download the full bout sheet:
FRANCISCO JAVIER LOPEZ vs IVAN LEON BENITEZ Bout Sheet
Presented by Don Chargin Productions, Paco Presents, and Fabrica De Campeones
Tuesday, December 8th, 6 pm pst
Fight Card
Main Event 10 Round Lightweight
FRANCISCO JAVIER LOPEZ vs IVAN LEON BENITEZ
Co-Main Event 10 Round Bantamweights
ALEJANDRO SANTIAGO vs ERICK GONZALEZ
8 Rounds Super Featherweights
CRISTIAN CRUZ vs FRANCISCO ALARCON
6 Rounds Featherweights
FRANCISCO JULIAN RODRIGUEZ vs JONATHAN GIOVANNI TORRES
6 Rounds Flyweights
BRYAN LUNA vs JOSE GIOVANNY PINEDO
6 Rounds Flyweights
DANNY ANDUJO vs FELIPE AYON DIMAS
6 Rounds Featherweights
ANTHONY REYES vs JOSE GUEVARA
4 Rounds Featherweights
CHRISTIAN EDUARDO SANTIAGO vs MIGUEL ALEJANDRO PEREZ
We will be back in 2021 with even more fight cards. After a busy 2020 we are looking forward to a busier 2021 with even better fights for fight fans.
Where to watch the show
Watch at www.bestinboxing.com and subscribe to exclusive content sports content right here on  www.globalsportsstreaming.com We broadcast live on Fight Hub TV on YouTube.
We do multipoint streaming so that there are plenty of locations for you to watch Best in Boxing.
Where to watch?
1. Fight Hub TV on Youtube youtube.com/fighthub
6. www.globalsportsstreaming.com
Plenty of places for you to watch the live stream
Follow us at:
https://twitter.com/BestInBoxing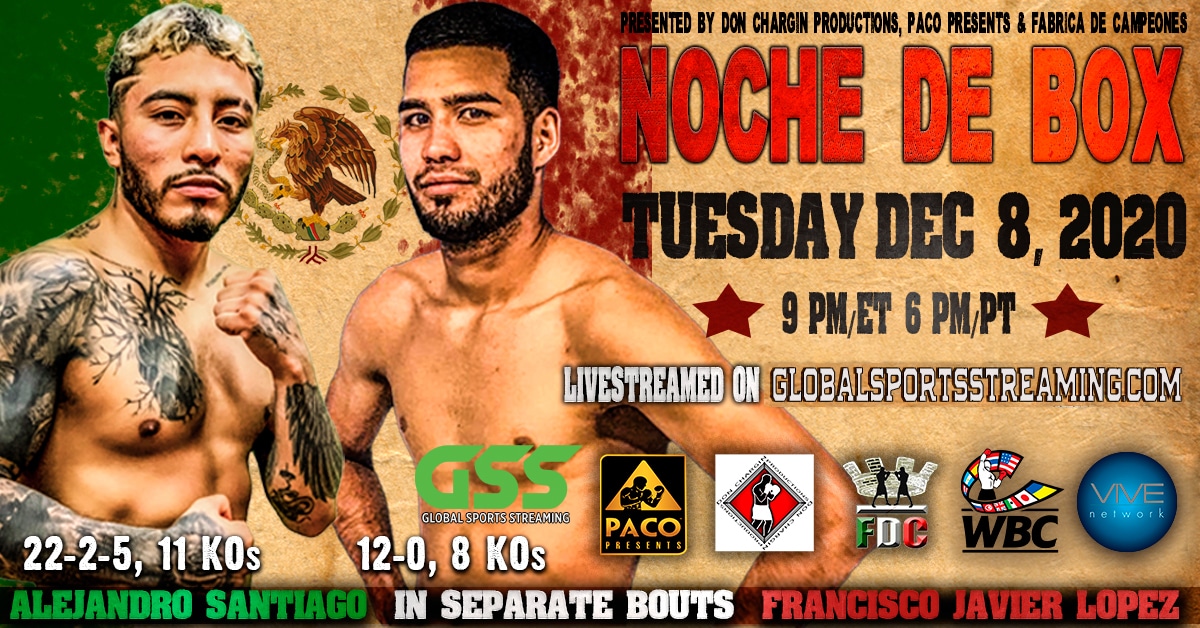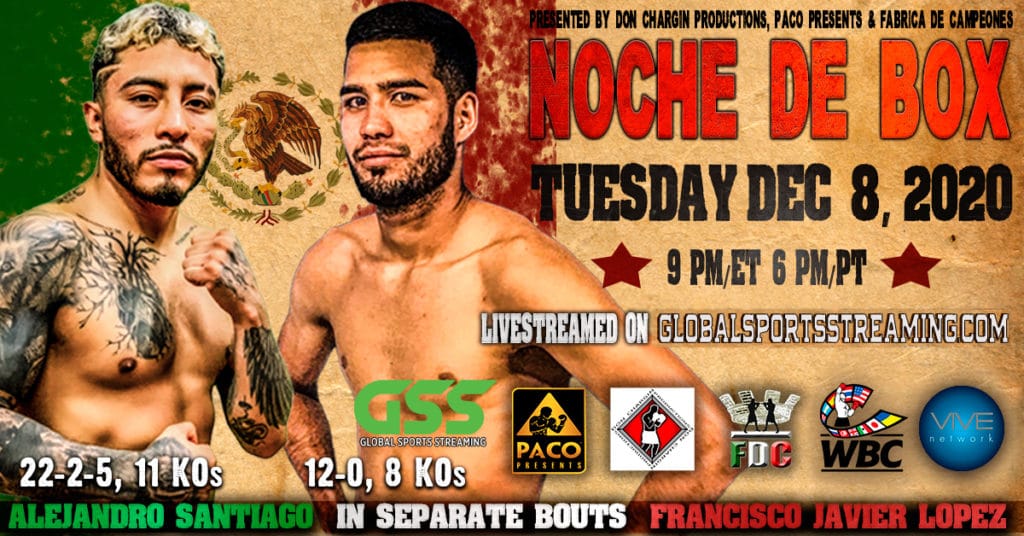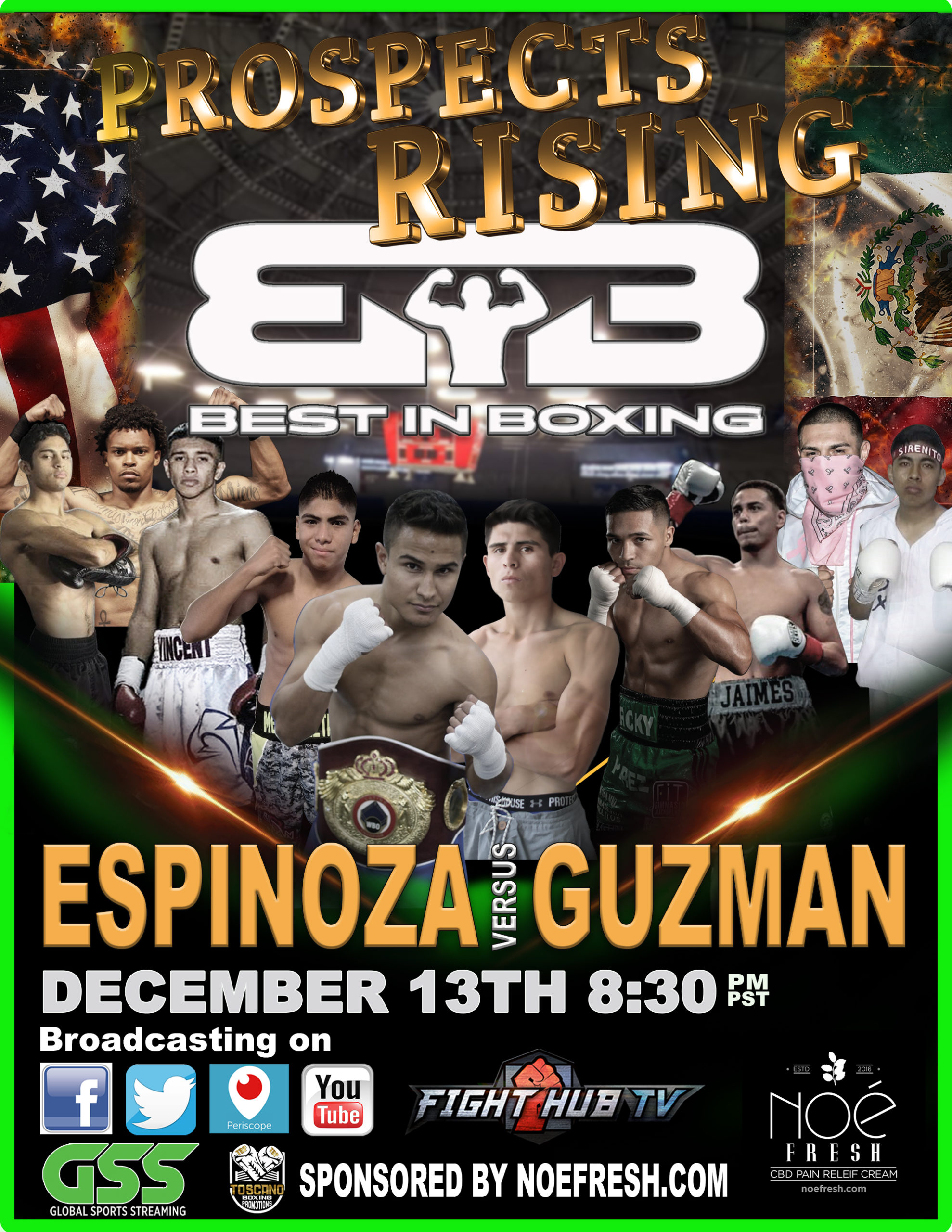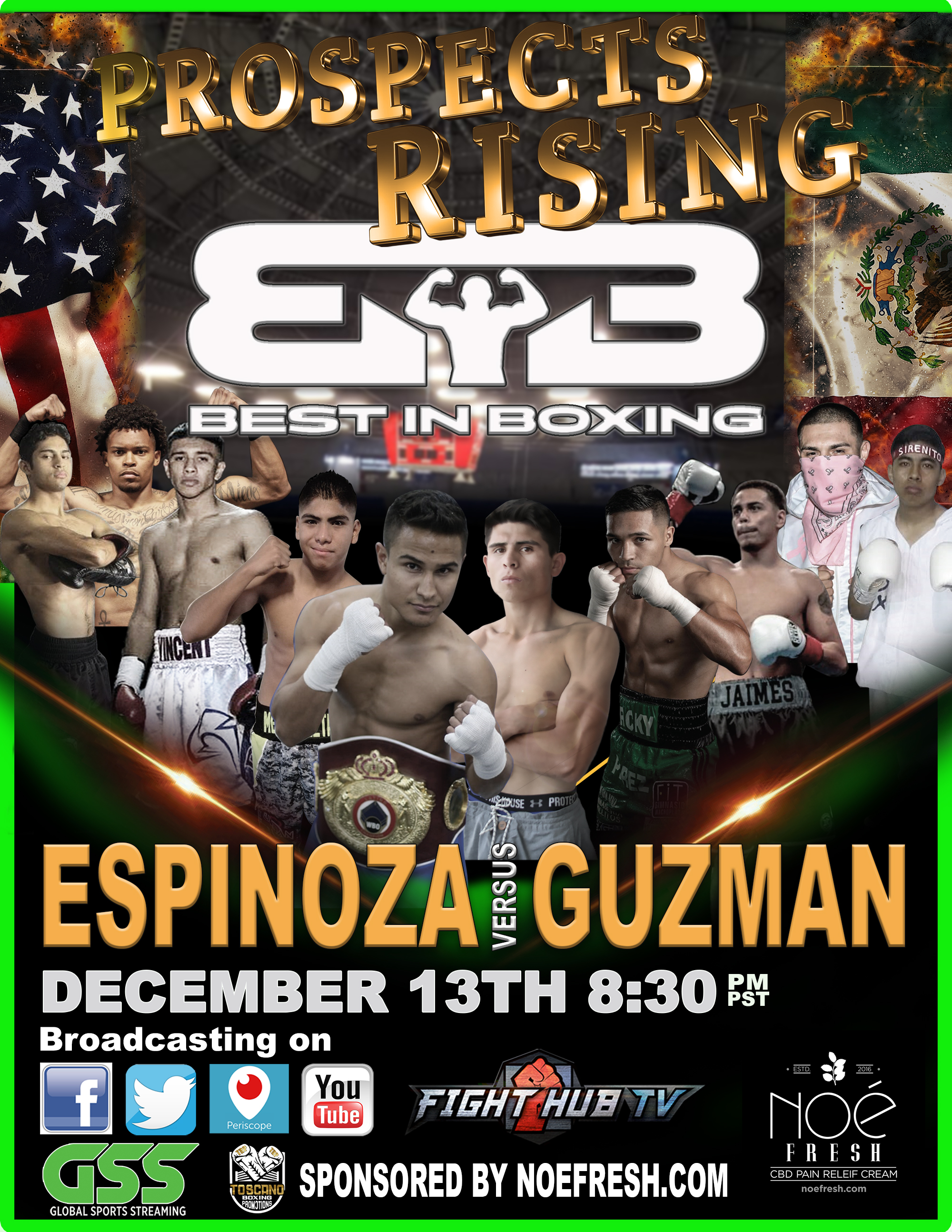 We are back live Friday the 13th of December with more live boxing for fight fans all over the world. We have ten fights on the card and it is a card stacked with prospects from the US and Mexico. This will be our first time working with Toscano Boxing Promotions and from what we've seen so far they have put together a great card. The matches will bring exciting boxing action from young hungry prospects.
Here is the breakdown:
The 411:
The show is presented by @ToscanoBoxingpromotions Friday, December 13th is the show date. The show starts at 8:30 pm pst.
Where can you watch it? You can watch it on @fighthub on YouTube. Go subscribe to Fight Hub and turn on your notifications and you'll be notified when we go live. You can also watch it on Facebook.com/bestinboxing – twitter.com/gsstreaming Facebook.com/gsstreaming – bestinboxing.com – Periscope.com/gsstreaming – YouTube.com/bestinboxing Subscribe to one of all of them and receive notifications when we go live.
On the card:
Main Event
RICARDO "HINDU" ESPINOZA vs ANDRES GARCIA GUZMAN
Co-Main Event
ANTONIO "RICKY" PEREZ vs ARMANDO "EL MOTO"MARISCAL
Undercard
EDWYN "TRIBI" FLORES vs LUIS JAVIER VALDEZ
Brandon "Metralleta" Rivas vs SAMUEL ALMONTES
MANUEL JAIMES vs ALBERTO "COBRA" GUZMAN
MARIO ALBERTO RAMIREZ vs ERIK "EL GUERO" CASTILLO
JOSE "EL KARMA" ALVARADO vs JESUS DIAZ CANTU
VINCENT "THE BEAST" AVINA vs CARLOS LOZANO
WADE JONES III vs ABRAHAM GILBERTO ROSAS
SERGIO "EL SIRENITO" PEREZ vs TBA
Watch our show Best in Boxing Series at bestinboxing.com and subscribe to exclusive content sports content at gsstreaming.com We broadcast live on Fight Hub TV right here on Youtube youtube.com/fighthub
Follow our Best in MMA Live Mixed Martial Arts show Youtube.com/bestinmma
Follow us at instagram.com/gsstreaming
instagram.com/bestinboxing
facebook.com/best_in_boxing
facebook.com/gsstreaming
twitter.com/bestinboxnig
twitter.com/gsstreaming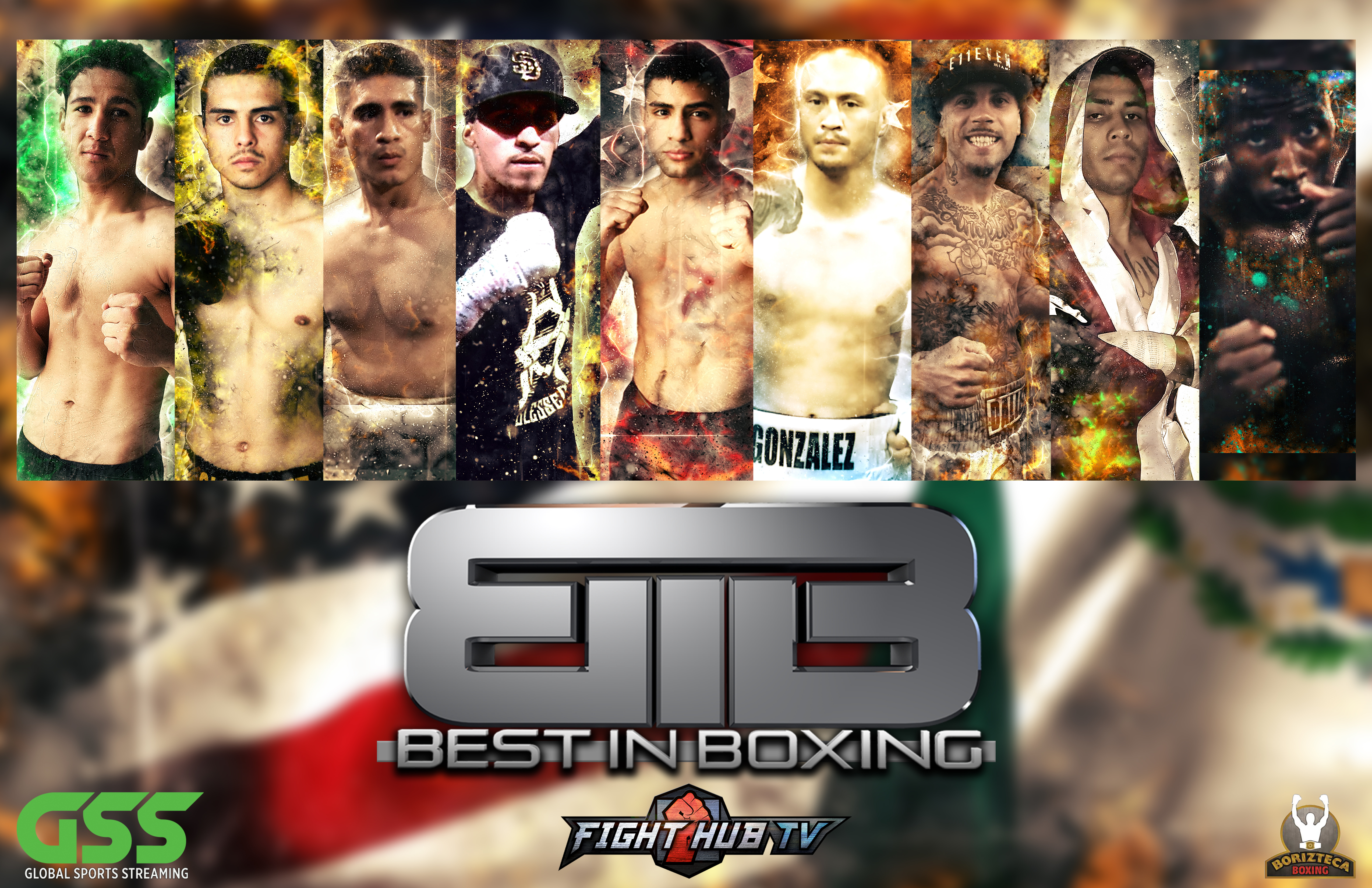 October 11th starting at 7:30 PM PST / 10:30 PM EST we start our next live stream on Fight Hub TV on Youtube.
Borizteca Boxing Promotions, our partner in SoCal, is moving from Tijuana, Mexico to San Diego, CA. Borizteca has partnered up with Bobby D. Promotions and House of Boxing to put together a great fight card. They've also partnered up with Team Canelo Alvarez who will be adding two fighters to the card.
The fight card has a few Best in Boxing veterans on the card. Fighters Kevin Torres, Ricardo Valdovinos, Adrian Gutierrez, Giovannie Gonzalez, and Jorge Marron Jr. have all fought on Best in Boxing. Kevin Torres and Ricardo Valdovinos with over 15 fights combined on Best in Boxing between them. All of them keep making the show because they are all action fighters and always entertain the fans.
Potential Fight of the Night honors will more than likely go to Ricardo Valdovinos vs Giovannie Gonzalez. Ricardo and 7-0-1 and Giovannie at 9-3 will be in each others faces all night long. We are really looking forward to this fight as well as our broadcast team. On the broadcast team we have Marcos Villegas, Chris Martin and Kevin Ottley. (We have a new member coming on board in November. We will get back to you soon about the big news.)
Here are the rest of the fighters on the card:
KEVIN TORRES vs TBD (Main Event)
RICARDO VALDOVINOS vs GIOVANNI GONZALEZ (Co-Main Event)
JORGE MARRON JR.vs GOZALO DALLERA
ADRIAN GUTIERREZ vs CARLOS HUERTA
LAZARO LORENZANA vs TBD
OLUWAFEMI OYELEYE vs TBD
SANTOS ORTEGA vs TBD
DARNELL PRICE vs TBD
We will be broadcasting on Fight Hub TV on Youtube as normal but we will also be simultaneously streaming to Best in Boxing Twitter, Best in Boxing Facebook, Global Sports Streaming Facebook, Global Sports Streaming Youtube and BestinBoxing.com.
We look forward to giving fans all the locations they need to be able to watch the show.
June 22md brings live boxing back to www.bestinboxing.com and Fight Hub TV youtube.com/fighthub with nine live fights from Tijuana Mexico.
On the card: In the main event
MARCOS FORESTAL vs DANIEL VEGA
in the Co-Main event, we have
RAFAEL RAMIREZ vs RAMON BARAJAS
also on the card
TONY HIRSH vs MANUEL GARCIA SILVA
RICARDO VALDOVINOS vs ESTEBAN CAYETANO
ROBERTO MEZA vs MANUEL SANDOVAL
KEVIN TORRES vs SANTIAGO ARREOLA
BRANDON CRUZ vs EMANUAL ZEPEDA MOLINA
DILAN MIRANDA vs JOSE HERNANDEZ
ALAN GALINDO VS JESUS RIZO
Tune in at 7 PM PST / 10 OM EST for the start of the live fights. We have great fight action you don't want to miss.
Best in Boxing group the sport of boxing one fight at a time!
Click the link for the Bout Sheet
BOUT SHEET JUNE 22, 2018 FINAL
We are looking forward to a great night of action with an amazing main event with fighter Dewayne Beamon vs Angel Ramos. Both fighters are action fighters and we are predicting this won't go to the scorecards. Both fighters see this fight as a stepping stone to much bigger fights in the future. Dewayne is known as "Easy" Beamon because he makes it look easy and Angel is known as "Diablito" "Little Devil" Ramos for his aggressive all-action style. This is a main event you don't want to miss.
The fights are as follows:
BESTINBOXING.COM PPV $2.99
9 PM PST
MAIN EVENT
DEWAYNE BEAMON 13-0 vs ANGEL RAMOS 22-1-1
ARMANDO TOVAR 8-1 vs JORGE VALENZUELA 6-1
MARIO "GUERO" RAMIREZ 9-1 vs JORGE LUIS BABUCA 5-24-2
KEVIN TORRES 6-0-1 vs CRISTOPHER GARCIA 0-1
ROBERTO MEZA 8-1 vs JAVIER MERAZ 6-10-1
FIGHT HUB TV ON YOUTUBE (FREE)
YOUTUBE.COM/FIGHTHUB
7 PM PST
MAIN EVENT
SIMON TORRES vs GIOVANNI PONCE
BRANDON VALDEZ vs JONATHAN PEREZ
BRANDON CRUZ vs MARIO DIAZ
ALIMKHAN JUMAKHANOV vs SAUL GONZALEZ
DILAN MIRANDA vs CARLOS ESCOBEDO
OSVALDO HERNANDEZ vs MANUEL GUILLEN
YAHO GABRIEL BLACKWELL vs ESTEBAN SOSA
JORGE MUñOZ, JR vs GABRIEL VILLAR (Swing)
Download Official Bout Sheet:
Feb 16 Fight Card

The link will take you all to the final bout sheet with all the fighters weights. We only had one fighter fall out but everyone else made weight. Omar Aguilar will not be fighting Leandro Monreal. Miguel Villalobos was not able to fight. Tune in tomorrow on bestinboxing.com and watch all 13 fights live.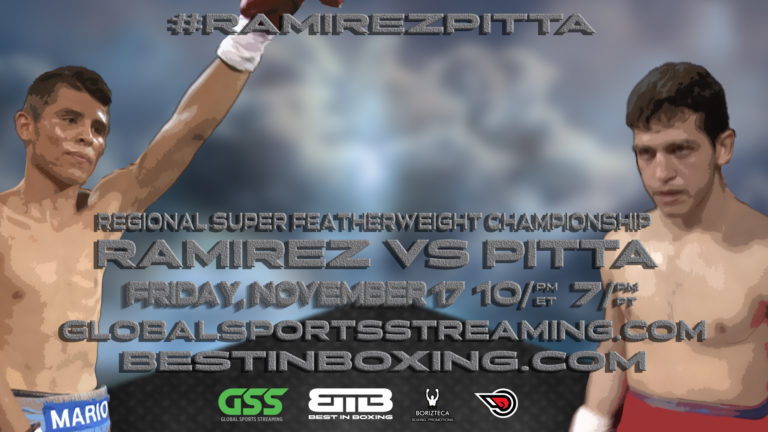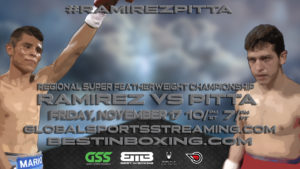 Best in Boxing:
November 17th is fast approaching and we are looking forward to a great night of action.
Here is the fights on the card:
Main event
(12) MARIO "GUERO RAMIREZ vs  ALFREDO PITTA
(11) RICARDO VALDOVINOS vs ALEJANDRO CASTAñEDA
(10) RAFAEL RAMIREZ vs MANUEL GARCIA *Special Attraction
(9) DEWAYNE BEAMON vs SAMUEL MENDIA *Special Attraction
(8) JUAN MIRANDA vs JESUS OSUNA
(7) BRANDON CRUZ vs MARIO YAEL DIAZ
(6) GILBERT GARCIA vs ENRIQUE VELAZQUEZ
(5) MARIO RAMOS vs ISAAC GALINDO
(4) JESSE "BAM" RODRIGUEZ vs JORGE MOSQUEIRA
(3) MULAPI ENJANI vs ADRIEL OSUNA
(2) JOSE MARIA DELGADO vs ISRAEL PINEDA
(1) LUCAS SANTA MARIA vs FERMIN CAñEDO
You can click on the link to download the bout sheet
Couple highlights for the fight night. Jose Maria Delgado and Jesse "Bam" Rodriguez are trained by Robert Garcia. Rafael Ramirez is part of The Money Team TMT. He looks to fight his way back into contention.