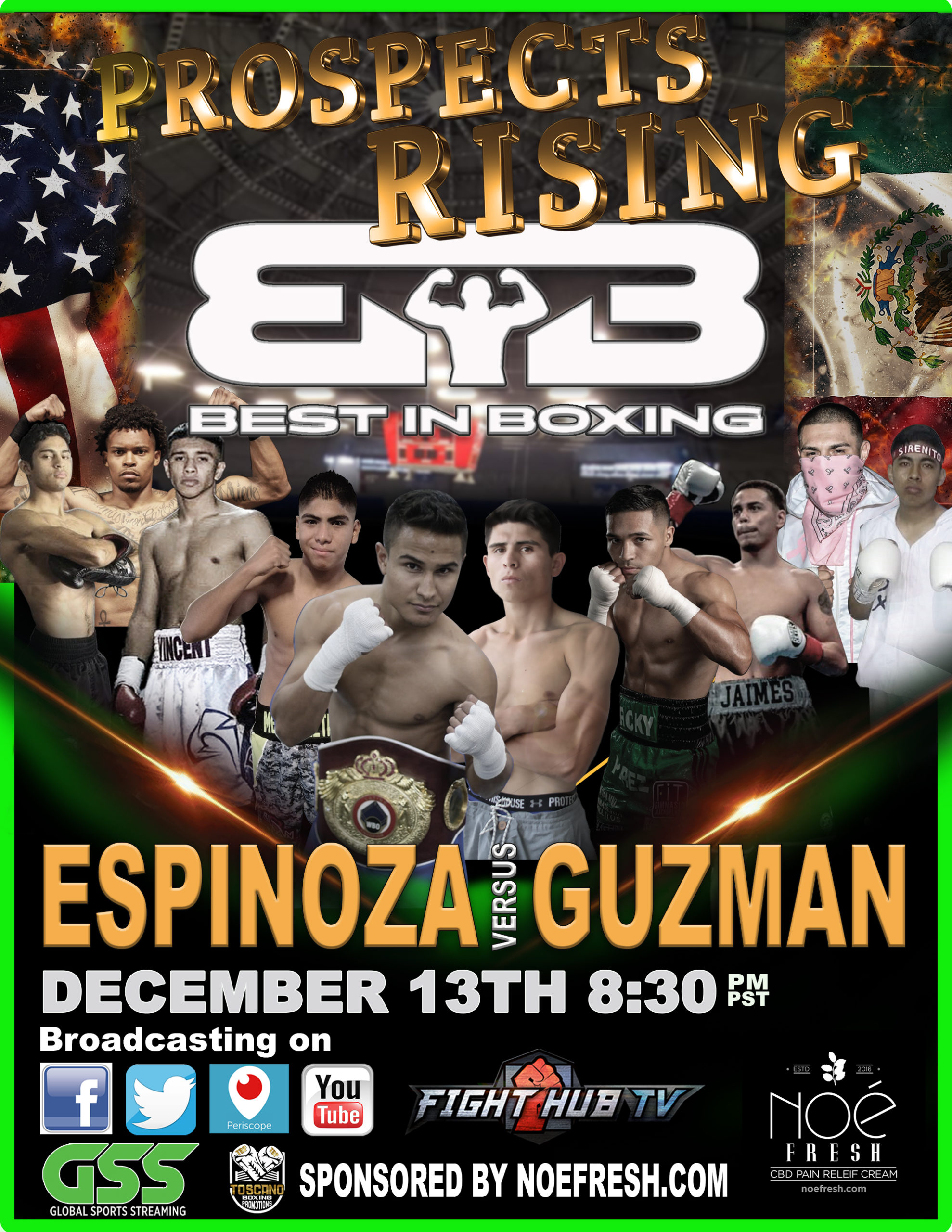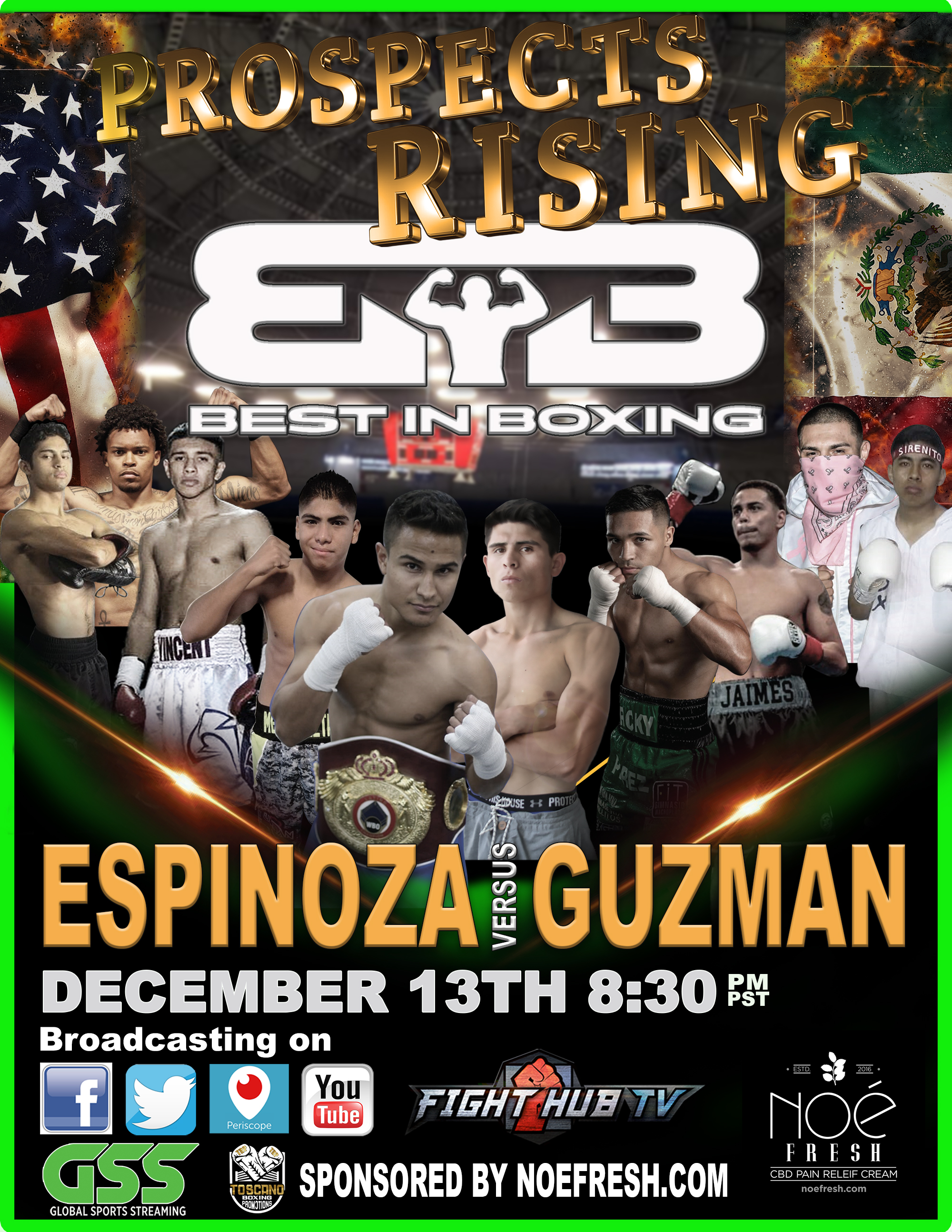 We are back live Friday the 13th of December with more live boxing for fight fans all over the world. We have ten fights on the card and it is a card stacked with prospects from the US and Mexico. This will be our first time working with Toscano Boxing Promotions and from what we've seen so far they have put together a great card. The matches will bring exciting boxing action from young hungry prospects.
Here is the breakdown:
The 411:
The show is presented by @ToscanoBoxingpromotions Friday, December 13th is the show date. The show starts at 8:30 pm pst.
Where can you watch it? You can watch it on @fighthub on YouTube. Go subscribe to Fight Hub and turn on your notifications and you'll be notified when we go live. You can also watch it on Facebook.com/bestinboxing – twitter.com/gsstreaming Facebook.com/gsstreaming – bestinboxing.com – Periscope.com/gsstreaming – YouTube.com/bestinboxing Subscribe to one of all of them and receive notifications when we go live.
On the card:
Main Event
RICARDO "HINDU" ESPINOZA vs ANDRES GARCIA GUZMAN
Co-Main Event
ANTONIO "RICKY" PEREZ vs ARMANDO "EL MOTO"MARISCAL
Undercard
EDWYN "TRIBI" FLORES vs LUIS JAVIER VALDEZ
Brandon "Metralleta" Rivas vs SAMUEL ALMONTES
MANUEL JAIMES vs ALBERTO "COBRA" GUZMAN
MARIO ALBERTO RAMIREZ vs ERIK "EL GUERO" CASTILLO
JOSE "EL KARMA" ALVARADO vs JESUS DIAZ CANTU
VINCENT "THE BEAST" AVINA vs CARLOS LOZANO
WADE JONES III vs ABRAHAM GILBERTO ROSAS
SERGIO "EL SIRENITO" PEREZ vs TBA
Watch our show Best in Boxing Series at bestinboxing.com and subscribe to exclusive content sports content at gsstreaming.com We broadcast live on Fight Hub TV right here on Youtube youtube.com/fighthub
Follow our Best in MMA Live Mixed Martial Arts show Youtube.com/bestinmma
Follow us at instagram.com/gsstreaming
instagram.com/bestinboxing
facebook.com/best_in_boxing
facebook.com/gsstreaming
twitter.com/bestinboxnig
twitter.com/gsstreaming
We are looking forward to a great night of action with an amazing main event with fighter Dewayne Beamon vs Angel Ramos. Both fighters are action fighters and we are predicting this won't go to the scorecards. Both fighters see this fight as a stepping stone to much bigger fights in the future. Dewayne is known as "Easy" Beamon because he makes it look easy and Angel is known as "Diablito" "Little Devil" Ramos for his aggressive all-action style. This is a main event you don't want to miss.
The fights are as follows:
BESTINBOXING.COM PPV $2.99
9 PM PST
MAIN EVENT
DEWAYNE BEAMON 13-0 vs ANGEL RAMOS 22-1-1
ARMANDO TOVAR 8-1 vs JORGE VALENZUELA 6-1
MARIO "GUERO" RAMIREZ 9-1 vs JORGE LUIS BABUCA 5-24-2
KEVIN TORRES 6-0-1 vs CRISTOPHER GARCIA 0-1
ROBERTO MEZA 8-1 vs JAVIER MERAZ 6-10-1
FIGHT HUB TV ON YOUTUBE (FREE)
YOUTUBE.COM/FIGHTHUB
7 PM PST
MAIN EVENT
SIMON TORRES vs GIOVANNI PONCE
BRANDON VALDEZ vs JONATHAN PEREZ
BRANDON CRUZ vs MARIO DIAZ
ALIMKHAN JUMAKHANOV vs SAUL GONZALEZ
DILAN MIRANDA vs CARLOS ESCOBEDO
OSVALDO HERNANDEZ vs MANUEL GUILLEN
YAHO GABRIEL BLACKWELL vs ESTEBAN SOSA
JORGE MUñOZ, JR vs GABRIEL VILLAR (Swing)
Download Official Bout Sheet:
Feb 16 Fight Card