We are back at it with GSS Presents PPV series. This time we are working with Paco Presents and Fabrica De Campeones. They have put together a great fight card for fight fans. This is the second in their weekday boxing series. This is our first Tuesday night fight so we are hoping that we can get a lot of viewership to support all the fighters. This card is only in Spanish for viewers. (Esta tarjeta está solo en español para espectadores.) Next show we are hoping to have our English speaking broadcaster back at the venue.
Click here to download the full bout sheet:
FRANCISCO JAVIER LOPEZ vs IVAN LEON BENITEZ Bout Sheet
Presented by Don Chargin Productions, Paco Presents, and Fabrica De Campeones
Tuesday, December 8th, 6 pm pst
Fight Card
Main Event 10 Round Lightweight
FRANCISCO JAVIER LOPEZ vs IVAN LEON BENITEZ
Co-Main Event 10 Round Bantamweights
ALEJANDRO SANTIAGO vs ERICK GONZALEZ
8 Rounds Super Featherweights
CRISTIAN CRUZ vs FRANCISCO ALARCON
6 Rounds Featherweights
FRANCISCO JULIAN RODRIGUEZ vs JONATHAN GIOVANNI TORRES
6 Rounds Flyweights
BRYAN LUNA vs JOSE GIOVANNY PINEDO
6 Rounds Flyweights
DANNY ANDUJO vs FELIPE AYON DIMAS
6 Rounds Featherweights
ANTHONY REYES vs JOSE GUEVARA
4 Rounds Featherweights
CHRISTIAN EDUARDO SANTIAGO vs MIGUEL ALEJANDRO PEREZ
We will be back in 2021 with even more fight cards. After a busy 2020 we are looking forward to a busier 2021 with even better fights for fight fans.
Where to watch the show
Watch at www.bestinboxing.com and subscribe to exclusive content sports content right here on  www.globalsportsstreaming.com We broadcast live on Fight Hub TV on YouTube.
We do multipoint streaming so that there are plenty of locations for you to watch Best in Boxing.
Where to watch?
1. Fight Hub TV on Youtube youtube.com/fighthub
6. www.globalsportsstreaming.com
Plenty of places for you to watch the live stream
Follow us at:
https://twitter.com/BestInBoxing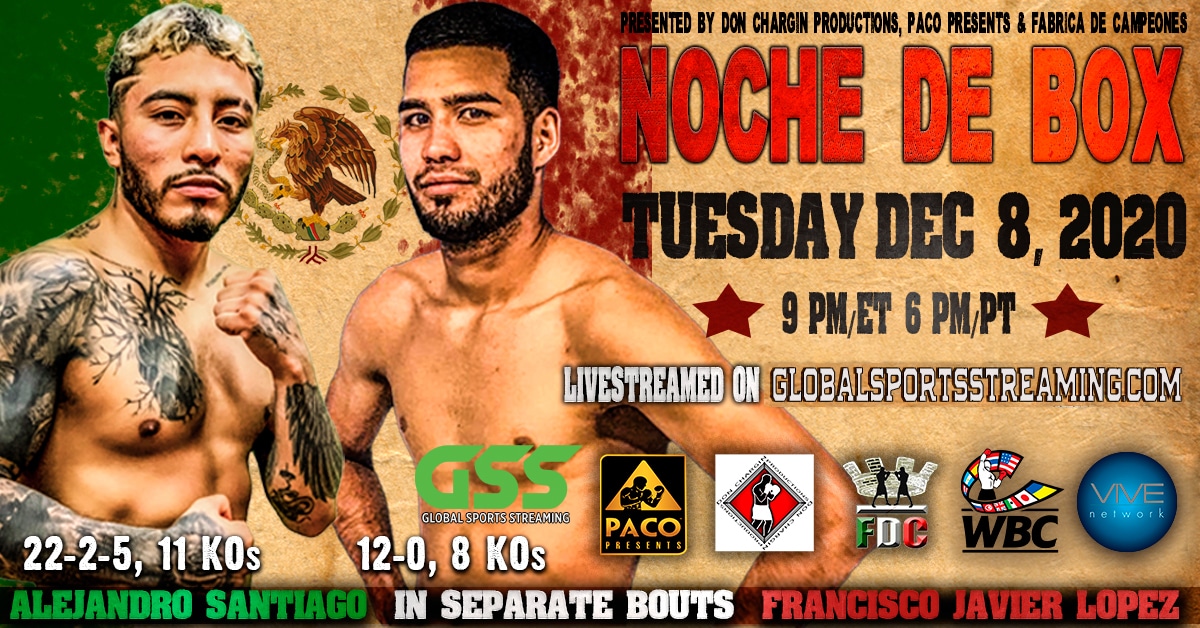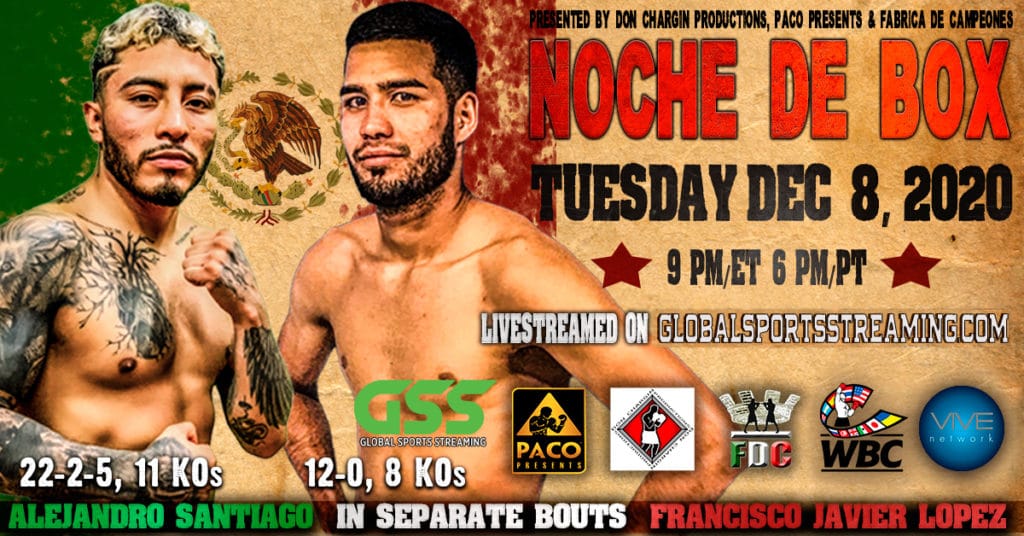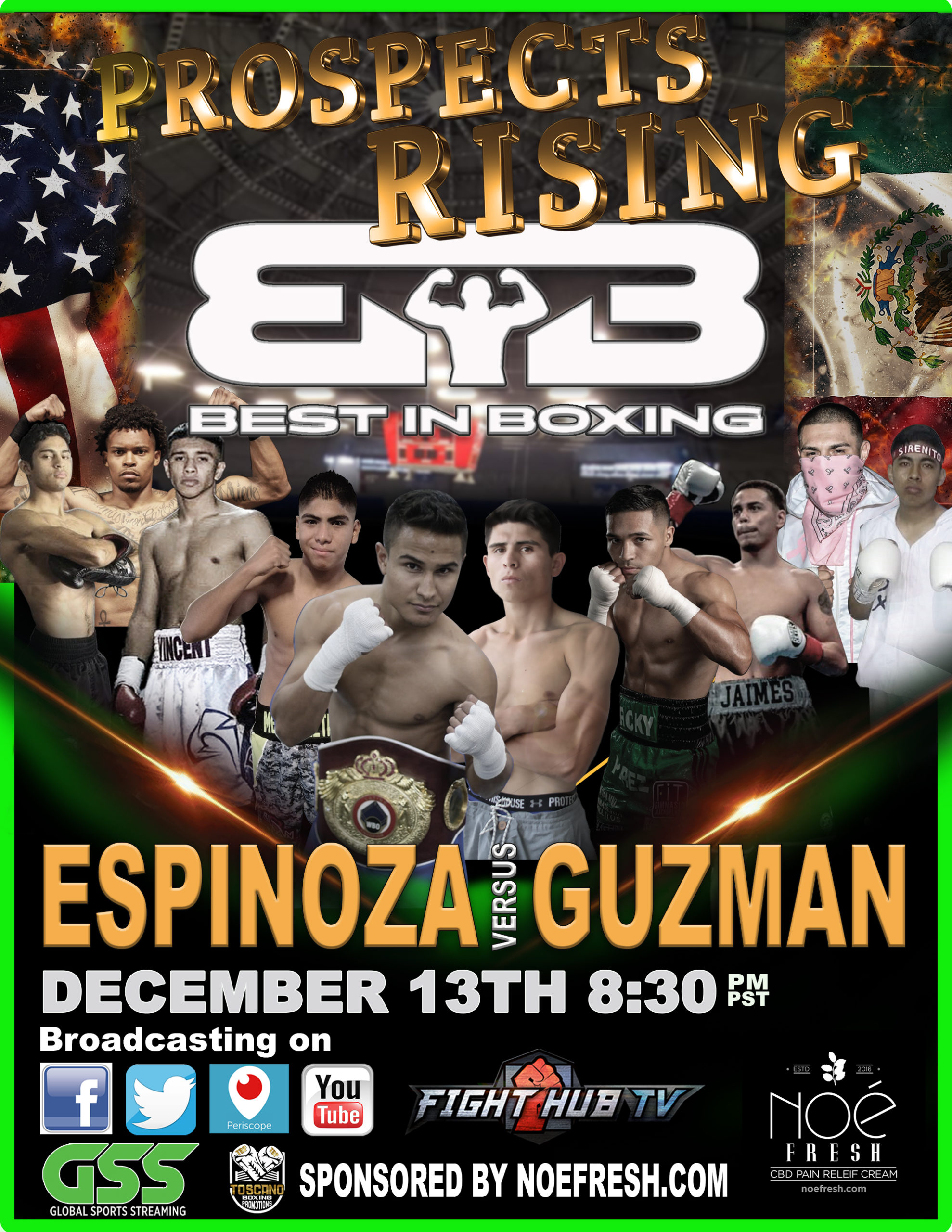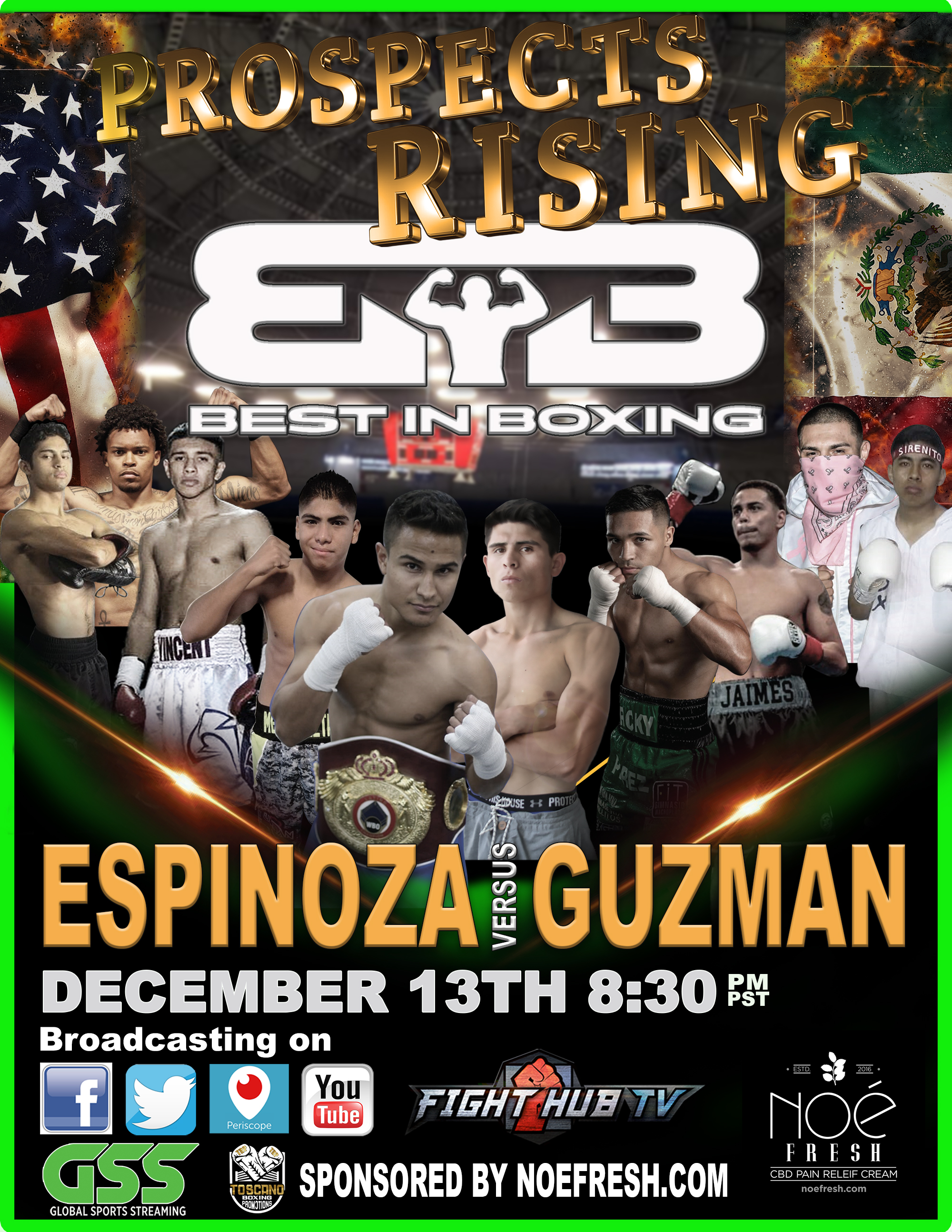 We are back live Friday the 13th of December with more live boxing for fight fans all over the world. We have ten fights on the card and it is a card stacked with prospects from the US and Mexico. This will be our first time working with Toscano Boxing Promotions and from what we've seen so far they have put together a great card. The matches will bring exciting boxing action from young hungry prospects.
Here is the breakdown:
The 411:
The show is presented by @ToscanoBoxingpromotions Friday, December 13th is the show date. The show starts at 8:30 pm pst.
Where can you watch it? You can watch it on @fighthub on YouTube. Go subscribe to Fight Hub and turn on your notifications and you'll be notified when we go live. You can also watch it on Facebook.com/bestinboxing – twitter.com/gsstreaming Facebook.com/gsstreaming – bestinboxing.com – Periscope.com/gsstreaming – YouTube.com/bestinboxing Subscribe to one of all of them and receive notifications when we go live.
On the card:
Main Event
RICARDO "HINDU" ESPINOZA vs ANDRES GARCIA GUZMAN
Co-Main Event
ANTONIO "RICKY" PEREZ vs ARMANDO "EL MOTO"MARISCAL
Undercard
EDWYN "TRIBI" FLORES vs LUIS JAVIER VALDEZ
Brandon "Metralleta" Rivas vs SAMUEL ALMONTES
MANUEL JAIMES vs ALBERTO "COBRA" GUZMAN
MARIO ALBERTO RAMIREZ vs ERIK "EL GUERO" CASTILLO
JOSE "EL KARMA" ALVARADO vs JESUS DIAZ CANTU
VINCENT "THE BEAST" AVINA vs CARLOS LOZANO
WADE JONES III vs ABRAHAM GILBERTO ROSAS
SERGIO "EL SIRENITO" PEREZ vs TBA
Watch our show Best in Boxing Series at bestinboxing.com and subscribe to exclusive content sports content at gsstreaming.com We broadcast live on Fight Hub TV right here on Youtube youtube.com/fighthub
Follow our Best in MMA Live Mixed Martial Arts show Youtube.com/bestinmma
Follow us at instagram.com/gsstreaming
instagram.com/bestinboxing
facebook.com/best_in_boxing
facebook.com/gsstreaming
twitter.com/bestinboxnig
twitter.com/gsstreaming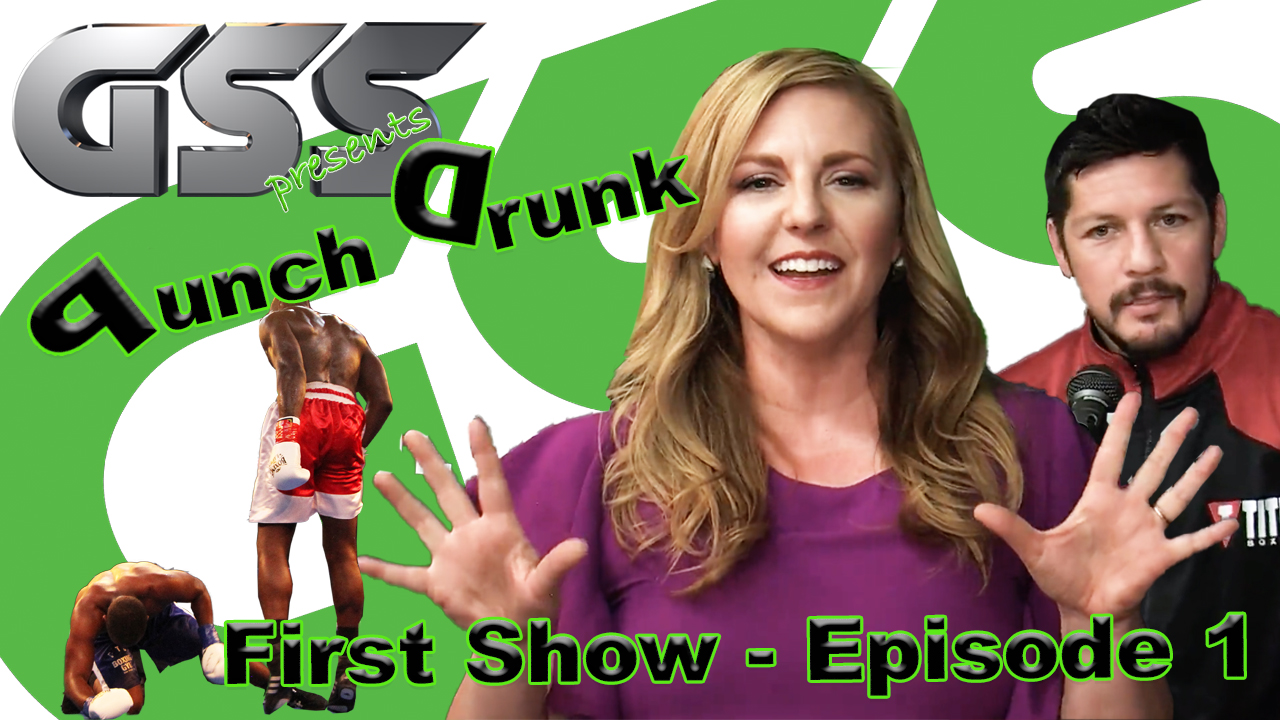 GSS Presents Punch Drunk
With Courtney Perna
Our guests are Diego Magdaleno and Armando Bareno.
Global Sports Streaming always looks for ways to expose athletes to a larger audience. We created this podcast as a way of doing that for our athletes. Since day one we've been about bringing exposure for athletes that are overlooked by the networks, promoters and sports organizations. This is one more step in that direction.
The Players
Courtney Perna is a Lifestyle Television Host (who recently took home an Emmy Award for Best On-Camera Talent for my role on "Las Vegas NOW." Yay!)Besides being a Journalist, she is also a Producer with vast experience both in front of and behind the camera, plus proven Social Media Marketing skills. Before her TV Host position on Las Vegas NOW at KLAS, hosted the "The Morning Blend" on WFTX in Fort Myers, FL, and I was a Feature Reporter / Producer/ Fill-in Host in Houston (DMA 8) on "Great Day Houston" (morning talk show on KHOU 11).
In this episode, Courtney sits down with Champion boxer Diego Magdaleno and talks about family life, two other professional boxers in the family, life after Top Rank and his upcoming fight. Courtney, also talks with founder of Global Sports Streaming Armando Bareno about the difficulties in building a startup and what drives him to make GSS a success.
What's next?
GSS Presents will be a monthly podcast with fighters from our show Best in Boxing and recognizable faces in boxing. GSS, through hard work and a passion for sports is creating a family of athletes and fans who can gather around common interests. Although we are new in the broadcasting game we have a lot of followers coming together to enjoy sports and engage with each other. Through shows like our new podcast we are growing that fanbase at the same time connecting more athletes to that fanbase.