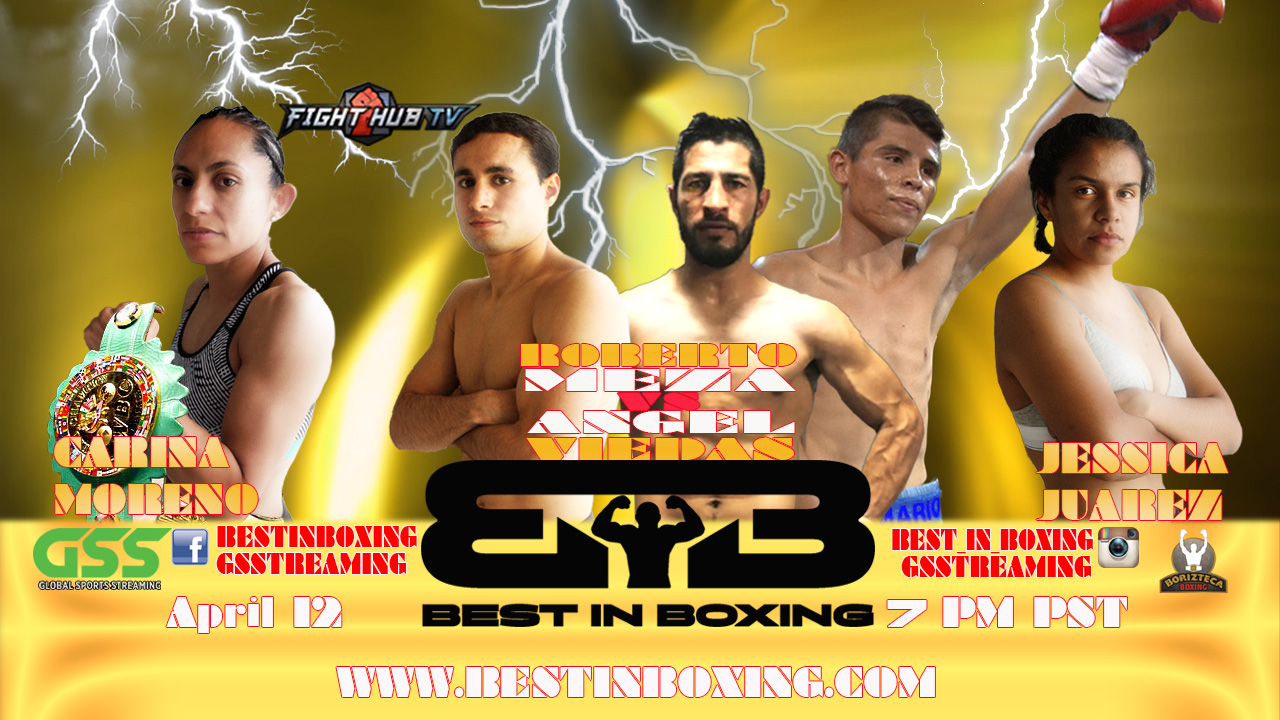 Roberto Meza at 12 and 1 is looking to take a step up in competition. Before this fight was put together his team approached Borizteca Boxing Promoter Saul Rios asking for a step up in competition. They took a look at Angel Viedas https://youtu.be/wUvt-Y2iMHs who fought on Best in Boxing on February 15 Fight Night Friday card. They liked what they saw and believed they could beat Angel. The fight got done a couple of weeks later and now Roberto will be facing the veteran who has a great record of 23-9-1. At 31 Angel is looking to make some moves himself and beat this up and coming prospect. Angel looked sharp in his last fight and does not plan on being a stepping stone to Roberto.
Best in Boxing has brought back Five time World Champion Carina Moreno. Her fight against Cinthia Martinez will be her second fight in her comeback after her five-year retirement. She never lost the hunger to fight and never stopped training, even after retirement. She is looking to make another run at a title and is excited about the reason exposure female boxers are receiving in the US. She hopes to make some big paydays on the way to another title.
We have some heavyweight action on the card with Big George Thompson. George approached Founder and President of Global Sports Streaming, Armando Bareno, and asked if he'd give George the opportunity to fight. George's record is 2 wins and 3 losses and he is 42 years old. Most promoters wouldn't touch George because of his age, record and he's a 250-pound southpaw. Mr.Bareno, always looking to give fighters an opportunity talked with Saul Rios (Borizteca) about finding him an opponent in Mexico to fight. It took over a year and a half to find a slot on a card and now finally George is getting his opportunity to fight. "Best in Boxing was started to help fighters just like George when other outlets won't give fighters like him a chance." George is certainly looking to make the most of his opportunity.
Here is the full fight line up:
ROBERTO MEZA vs ANGEL VIEDAS
CARINA MORENO vs CINTHIA MARTINEZ
MARIO RAMIREZ vs JOSE EDUARDO POOM
BRANDON VALDES vs ALEJANDRO ZARATE
GIOVANNIE GONZALEZ vs TBA
MARIO AGUIRRE vs JESUS OTERO
GEORGE THOMPSON vs ALEJANDRO GARDUñO
MANUEL JAIMES vs NOE ONTIVEROS
JOSE MARIA CARRILLO vs TBA
And special attraction Dewayne Beamon