The link will take you all to the final bout sheet with all the fighters weights. We only had one fighter fall out but everyone else made weight. Omar Aguilar will not be fighting Leandro Monreal. Miguel Villalobos was not able to fight. Tune in tomorrow on bestinboxing.com and watch all 13 fights live.
As everyone that follows boxing knows fights fall out and fights get made last minute. This fight night is no exception. Take a look at the latest bout sheet for all the changes.
BOUT SHEET NOV 17, 2017 (v4)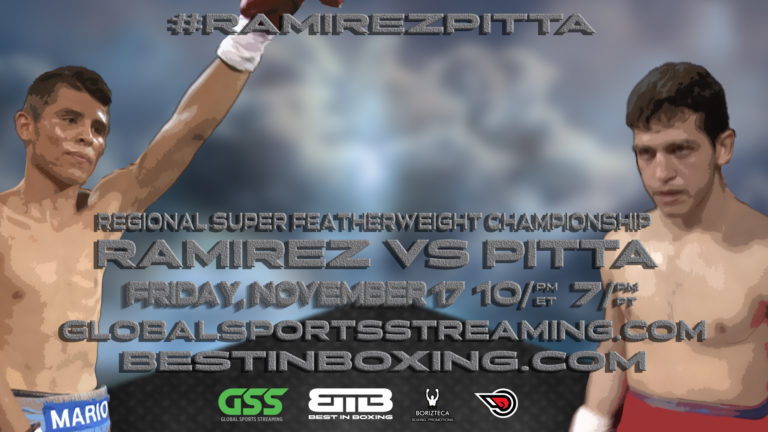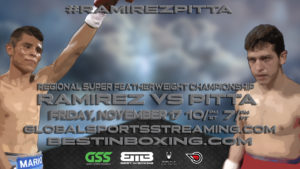 Best in Boxing:
November 17th is fast approaching and we are looking forward to a great night of action.
Here is the fights on the card:
Main event
(12) MARIO "GUERO RAMIREZ vs  ALFREDO PITTA
(11) RICARDO VALDOVINOS vs ALEJANDRO CASTAñEDA
(10) RAFAEL RAMIREZ vs MANUEL GARCIA *Special Attraction
(9) DEWAYNE BEAMON vs SAMUEL MENDIA *Special Attraction
(8) JUAN MIRANDA vs JESUS OSUNA
(7) BRANDON CRUZ vs MARIO YAEL DIAZ
(6) GILBERT GARCIA vs ENRIQUE VELAZQUEZ
(5) MARIO RAMOS vs ISAAC GALINDO
(4) JESSE "BAM" RODRIGUEZ vs JORGE MOSQUEIRA
(3) MULAPI ENJANI vs ADRIEL OSUNA
(2) JOSE MARIA DELGADO vs ISRAEL PINEDA
(1) LUCAS SANTA MARIA vs FERMIN CAñEDO
You can click on the link to download the bout sheet
Couple highlights for the fight night. Jose Maria Delgado and Jesse "Bam" Rodriguez are trained by Robert Garcia. Rafael Ramirez is part of The Money Team TMT. He looks to fight his way back into contention.

As part of the on growth of Global Sports Streaming (GSS) (globalsportstreaming.com) we are launching a separate site for our first show "Best In Boxing". The launch of bestinboxing.com is just another step to building an online sports network streaming sports around the world. The next step for us will be a subscription service with exclusive looks inside the life of fighters who fight on our cards. We will be bringing you live fights, live training session, podcasts and much more. We look forward to growing a solid following of boxing heads and combat sport fight fans.
To start off the launch of bestinboxing.com we will have 12 fights brought to you live right here starting at 10pm est / 7pm pst November 17th. Through the help of promoters like Borizteca Boxing we've been able to livestream over 100 fights for fight fans. We are just getting started and are looking towards getting over 1000 and beyond.
We are already putting together fight cards for next year and 2018 is going to be a big year for Global Sports Streaming and Our show "Best in Boxing".