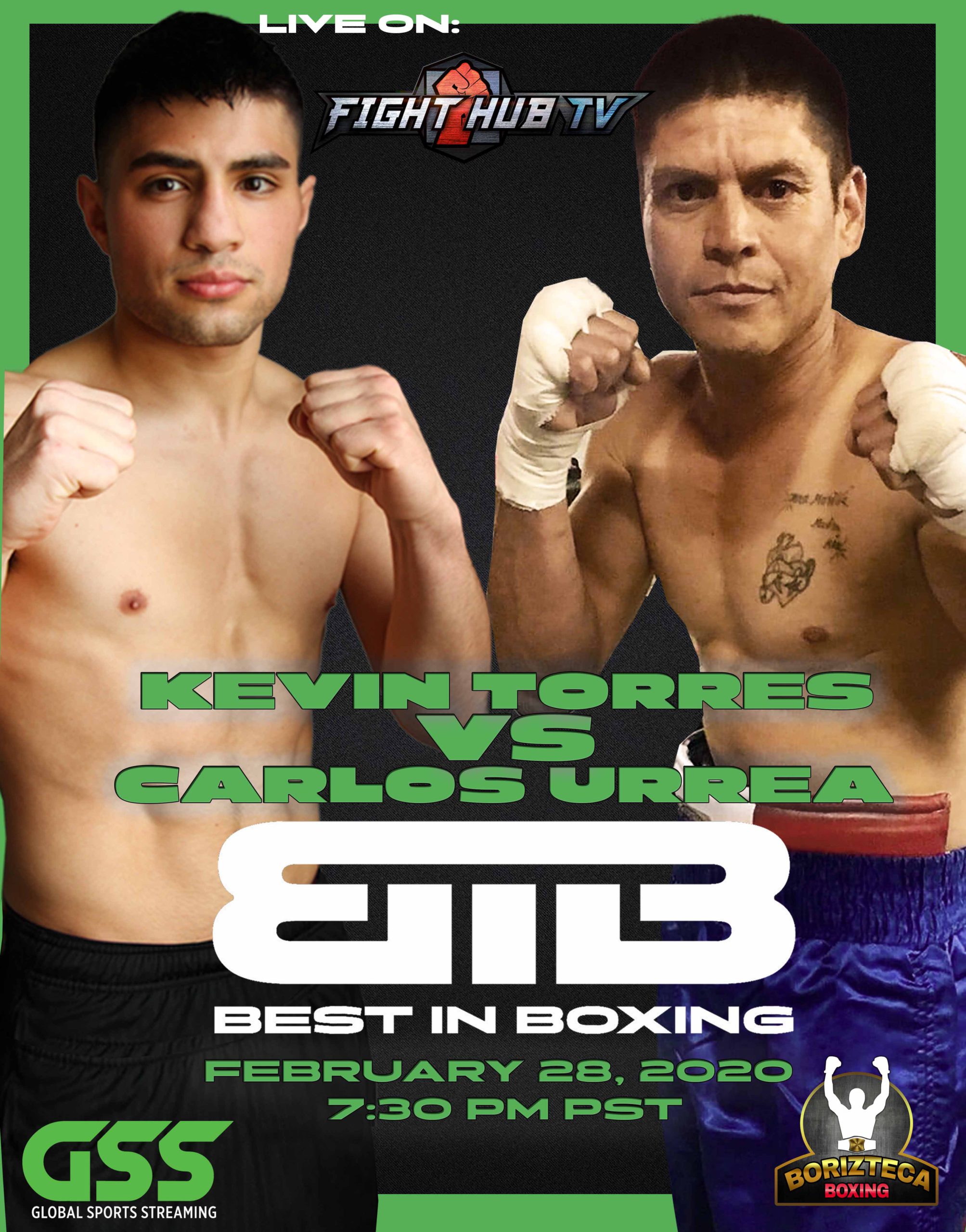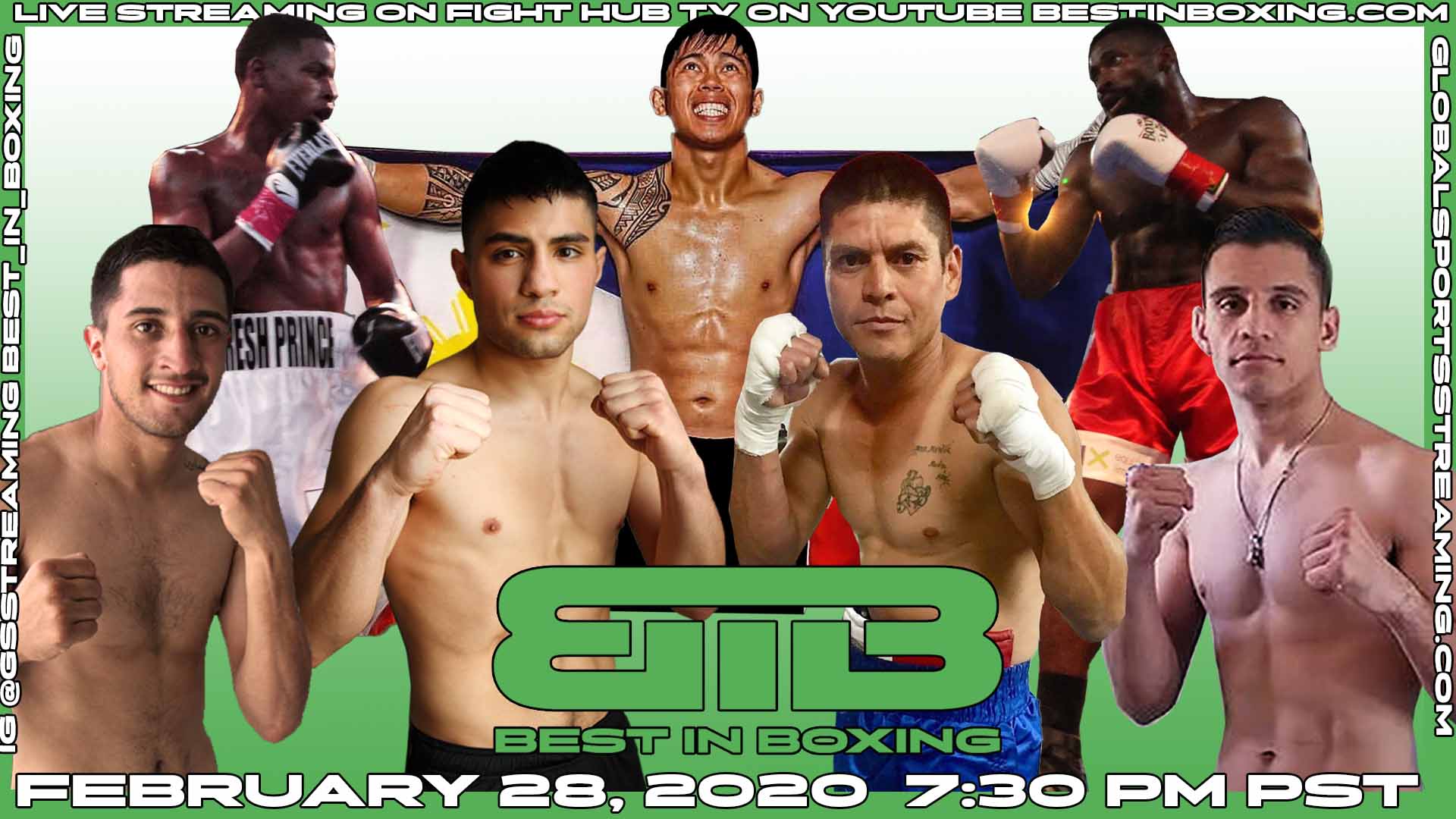 We are back for our first fight night of 2020 with Borizteca Boxing Promotions. We are broadcasting on Fight Hub TV on Youtube. We have a great partnership with Fight Hub and we are able to showcase fighters just starting out in their careers to over 750,000 subscribers. Our February 28th show starts at 7:30 PM PST live from Big Punch Arena in Tijuana, Mexico. We have a great first card of the year with the return of Kevin Torres in our main event. Kevin takes on veteran fighter Carlos Urrea. At 15-1-1 Kevin Torress is getting to the point where he needs to test his skill level to prepare for the tough fights ahead. Carlos has fought 38 times and is known as a tough fighter that gives a good fight and helps with the development of fighters on the rise.
Continue reading February 28TH BEST IN BOXING IS BACK ON FIGHT HUB TV →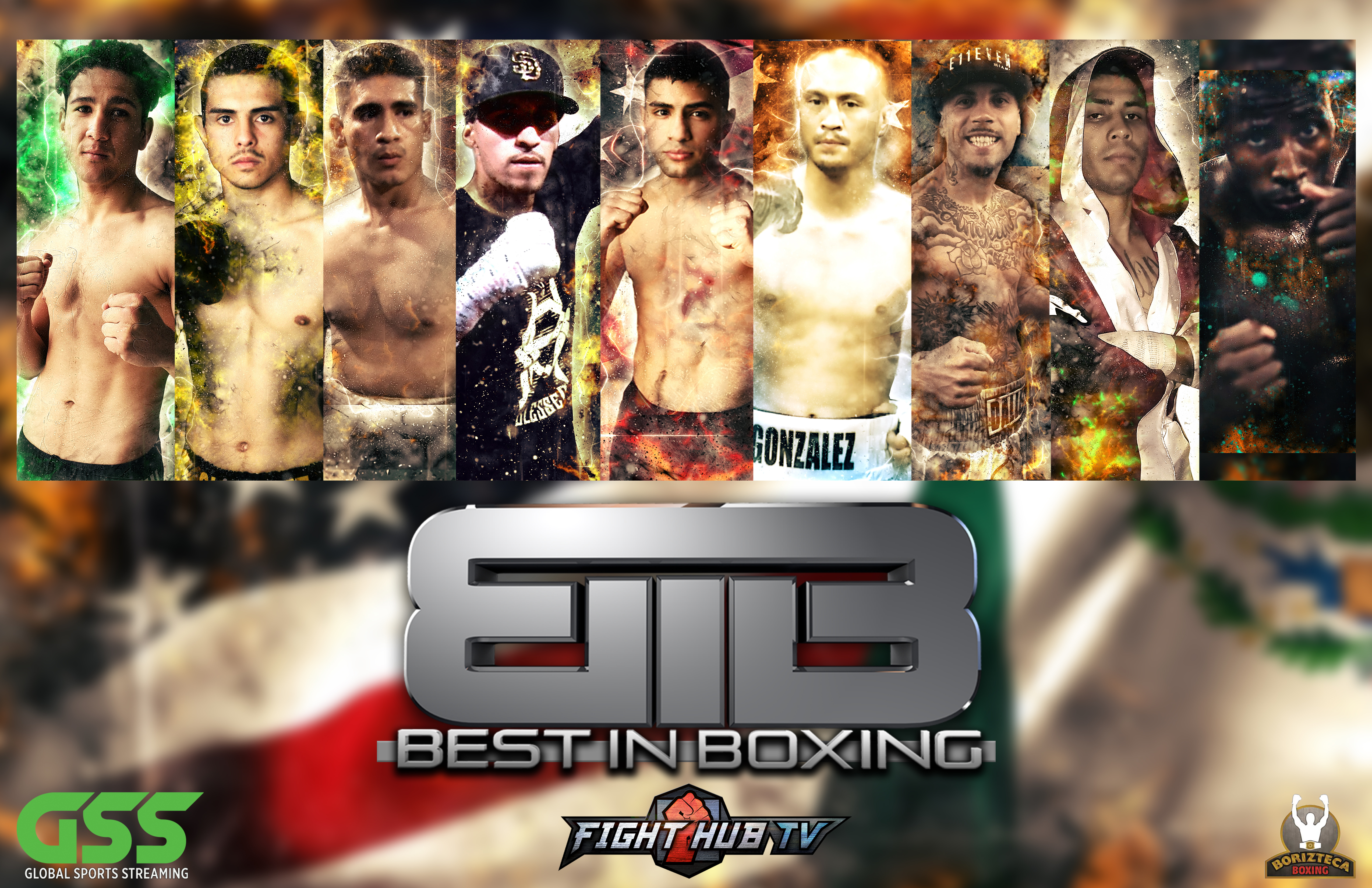 October 11th starting at 7:30 PM PST / 10:30 PM EST we start our next live stream on Fight Hub TV on Youtube.
Borizteca Boxing Promotions, our partner in SoCal, is moving from Tijuana, Mexico to San Diego, CA. Borizteca has partnered up with Bobby D. Promotions and House of Boxing to put together a great fight card. They've also partnered up with Team Canelo Alvarez who will be adding two fighters to the card.
The fight card has a few Best in Boxing veterans on the card. Fighters Kevin Torres, Ricardo Valdovinos, Adrian Gutierrez, Giovannie Gonzalez, and Jorge Marron Jr. have all fought on Best in Boxing. Kevin Torres and Ricardo Valdovinos with over 15 fights combined on Best in Boxing between them. All of them keep making the show because they are all action fighters and always entertain the fans.
Potential Fight of the Night honors will more than likely go to Ricardo Valdovinos vs Giovannie Gonzalez. Ricardo and 7-0-1 and Giovannie at 9-3 will be in each others faces all night long. We are really looking forward to this fight as well as our broadcast team. On the broadcast team we have Marcos Villegas, Chris Martin and Kevin Ottley. (We have a new member coming on board in November. We will get back to you soon about the big news.)
Here are the rest of the fighters on the card:
KEVIN TORRES vs TBD (Main Event)
RICARDO VALDOVINOS vs GIOVANNI GONZALEZ (Co-Main Event)
JORGE MARRON JR.vs GOZALO DALLERA
ADRIAN GUTIERREZ vs CARLOS HUERTA
LAZARO LORENZANA vs TBD
OLUWAFEMI OYELEYE vs TBD
SANTOS ORTEGA vs TBD
DARNELL PRICE vs TBD
We will be broadcasting on Fight Hub TV on Youtube as normal but we will also be simultaneously streaming to Best in Boxing Twitter, Best in Boxing Facebook, Global Sports Streaming Facebook, Global Sports Streaming Youtube and BestinBoxing.com.
We look forward to giving fans all the locations they need to be able to watch the show.
We are excited to be broadcasting again live on June 22nd at 7PM PST 10 PM EST on youtube.com/fighthub and www.bestinboxing.com
In the main event, we have
MARCOS FORESTAL vs DANIEL VEGA
in the Co-Main event, we have
RAFAEL RAMIREZ vs RAMON BARAJAS
also on the card
TONY HIRSH vs MANUEL GARCIA SILVA
RICARDO VALDOVINOS vs ESTEBAN CAYETANO
ROBERTO MEZA vs MANUEL SANDOVAL
KEVIN TORRES vs SANTIAGO ARREOLA
BRANDON CRUZ vs EMANUAL ZEPEDA MOLINA
DILAN MIRANDA vs JOSE HERNANDEZ
ALAN GALINDO VS JESUS RIZO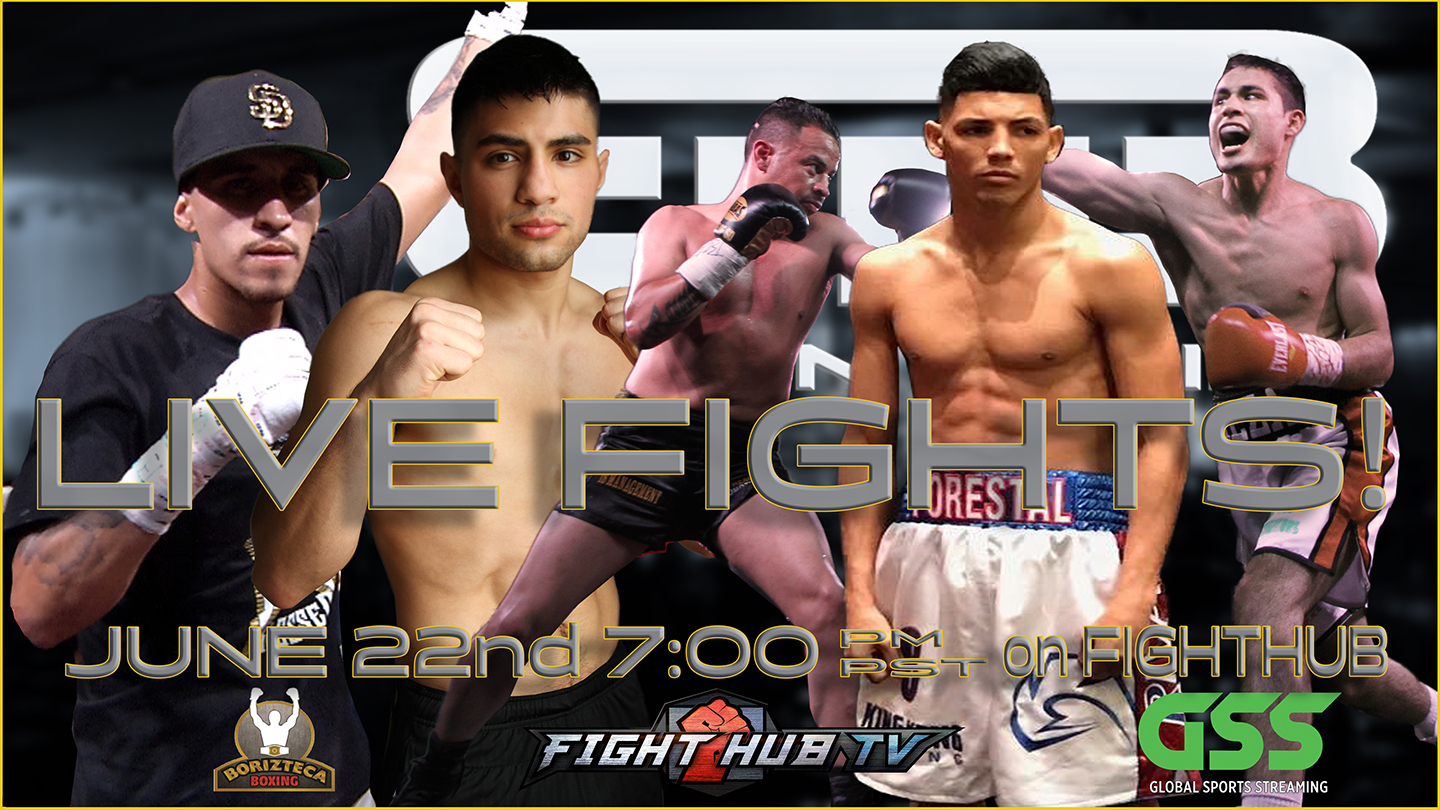 We are looking forward to a great night of action with an amazing main event with fighter Dewayne Beamon vs Angel Ramos. Both fighters are action fighters and we are predicting this won't go to the scorecards. Both fighters see this fight as a stepping stone to much bigger fights in the future. Dewayne is known as "Easy" Beamon because he makes it look easy and Angel is known as "Diablito" "Little Devil" Ramos for his aggressive all-action style. This is a main event you don't want to miss.
The fights are as follows:
BESTINBOXING.COM PPV $2.99
9 PM PST
MAIN EVENT
DEWAYNE BEAMON 13-0 vs ANGEL RAMOS 22-1-1
ARMANDO TOVAR 8-1 vs JORGE VALENZUELA 6-1
MARIO "GUERO" RAMIREZ 9-1 vs JORGE LUIS BABUCA 5-24-2
KEVIN TORRES 6-0-1 vs CRISTOPHER GARCIA 0-1
ROBERTO MEZA 8-1 vs JAVIER MERAZ 6-10-1
FIGHT HUB TV ON YOUTUBE (FREE)
YOUTUBE.COM/FIGHTHUB
7 PM PST
MAIN EVENT
SIMON TORRES vs GIOVANNI PONCE
BRANDON VALDEZ vs JONATHAN PEREZ
BRANDON CRUZ vs MARIO DIAZ
ALIMKHAN JUMAKHANOV vs SAUL GONZALEZ
DILAN MIRANDA vs CARLOS ESCOBEDO
OSVALDO HERNANDEZ vs MANUEL GUILLEN
YAHO GABRIEL BLACKWELL vs ESTEBAN SOSA
JORGE MUñOZ, JR vs GABRIEL VILLAR (Swing)
Download Official Bout Sheet:
Feb 16 Fight Card
On Friday evening (November 17, 2017) at the Salon Mezzanine Hall in Tijuana, unquestionably the Bout of the Night on the 13-bout Borizteca Boxing Promotions fight card had to be the thriller between Ricardo Valdovinos (5-0) from San Diego and Alex Castaneda (3-1) from Rosarito. The two super featherweights literally banged heads for six-plus, action-packed rounds. You heard that right. With everyone so wrapped up in watching this fight, to include the meticulous timekeeper, the bell to end the final round didn't sound until almost two minutes (actually 1 minute and 51 seconds) past the regulated three minutes.
From the opening bell, both Alejandro Castaneda (l) and Ricardo Valdovinos (r) were throwing punches with bad intentions.
Why was everyone so caught up in Bout #12? For one thing, Valdovinos had promised to knock his opponent out. Second, the mention of that boast must have reached Alex Castaneda and had him training extra hard. Third, during the match, it appeared the treacherous Castaneda made four separate attempts to maliciously headbutt Valdovinos and five, both men were known for their Mexican style of fighting – that in-your-face, banging away at your opponent without letting-up.
Masterfully set up, Ricardo Valdovinos' left hook caught Alex Castaneda by surprise and down he went. Any lesser of a man would have stayed put on the canvas but Castaneda didn't hesitate and quickly returned to his feet.
At the conclusion of their exciting bout, veteran referee Jesus Soto raised the arm of the victorious Ricardo Valdovinos. Both men looked tired and beat up.
In the final round of this last man standing battle, Valdovinos landed what everyone believed to be the finishing blow to knock Castaneda out. But, like the energizer bunny, Castaneda quickly returned to his feet as if he had just lost his balance and not been hit by a perfectly thrown, well-leveraged left hook. In the end, all three judges had Valdovinos as their winner: one had it 58-55 and the other two had it 59-54 for Valdovinos.
To read the rest of the article head to sportofboxing.com
http://www.sportofboxing.com/2017/11/bout-of-the-night-valdovinos-vs-castaneda-at-the-latest-borizteca-boxing-show/

The link will take you all to the final bout sheet with all the fighters weights. We only had one fighter fall out but everyone else made weight. Omar Aguilar will not be fighting Leandro Monreal. Miguel Villalobos was not able to fight. Tune in tomorrow on bestinboxing.com and watch all 13 fights live.
As everyone that follows boxing knows fights fall out and fights get made last minute. This fight night is no exception. Take a look at the latest bout sheet for all the changes.
BOUT SHEET NOV 17, 2017 (v4)