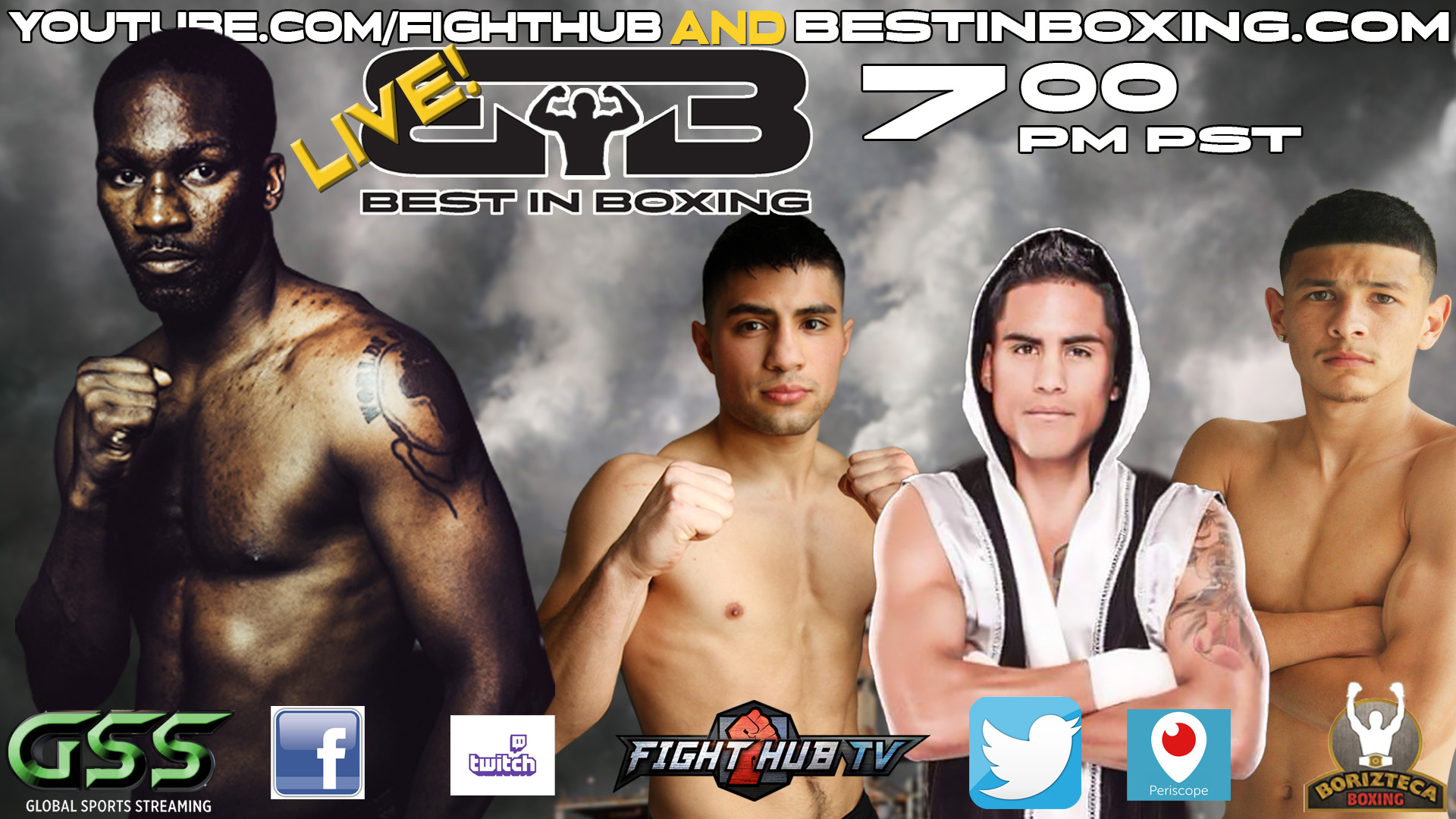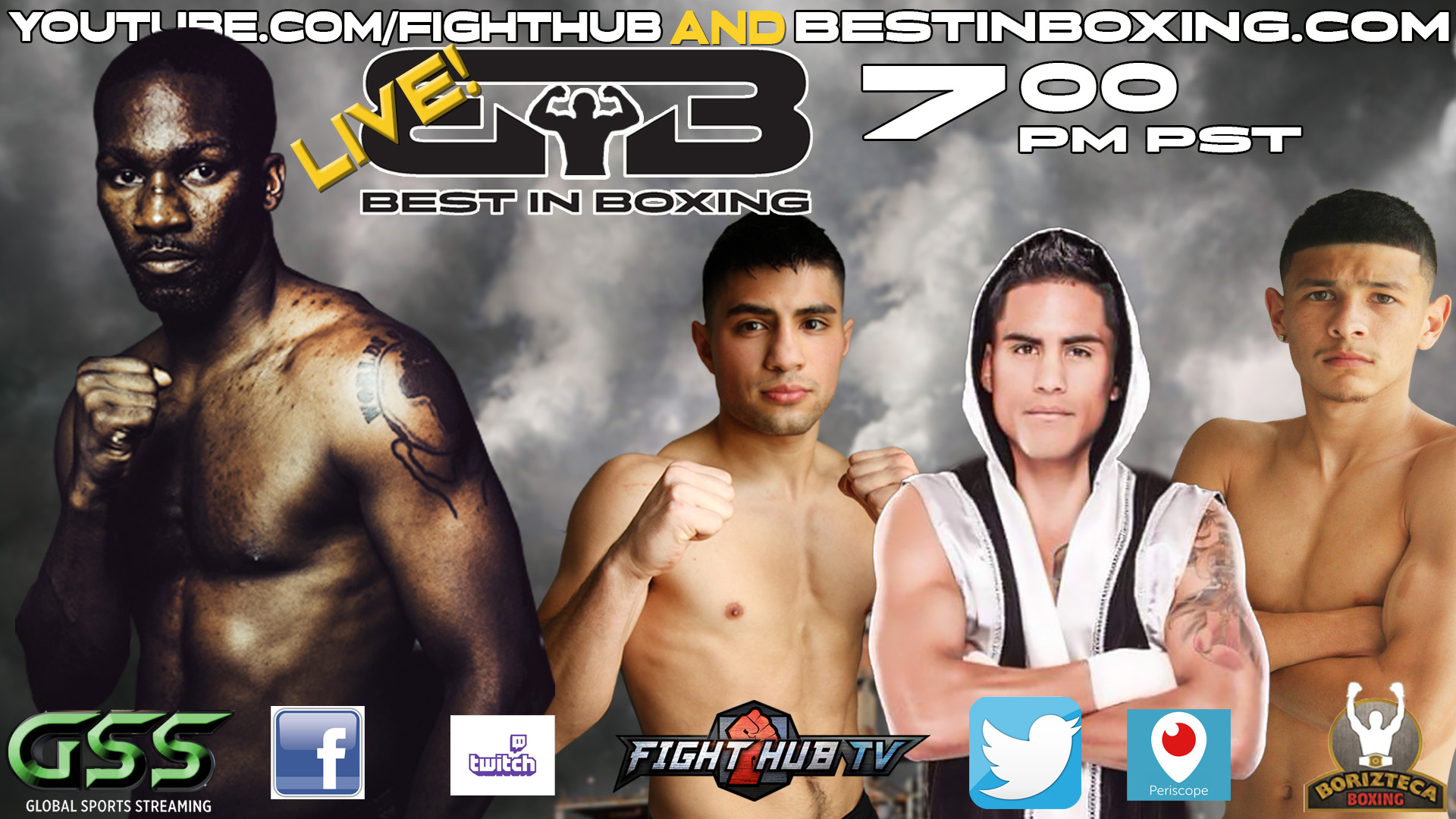 February 15th we have plenty of boxing action coming your way!
We have nine live fights being live streamed all over the world for fight fans.
Fights start at 7:00 PM PST / 10 PM EST and will be broadcast on Fight Hub TV on Youtube
bestinboxing.com,
In the main event we have Super Welterweight showdown between Domonique Dolton of Detroit and Ramon Barajas out of Tepic, Nayarit, Mexico. In the Co-main event Kevin Torres returns to the ring after his first loss against Jorge Alberto Brito. Kevin looks to get back to his winning ways against Manuel Venenzuela. If you missed this fight definitely watch it on Youtube
Here is the rest of the fights on the card. Carina Moreno vs Judith Vivanco Angel Viedas vs Manuel Sandoval Jorge Ruiz vs Jose Eduardo Poom Marco Arroyo vs Alberto Martinez Koran Proctor vs Abraham Yocupicio Rafael Sandoval vs TBA Amir Elsaey vs Aron Franco One Fighter to note is Carina Moreno. At 23-6 she is an all action fighter that always leaves fans satisfied with her performance http://www.womenboxing.com/biog/cmoreno.htm
Jorge "Tito" Ruiz is looking to get his career back on track after taking some time off from the sport. Tito had to take some time off after a lung infection wouldn't allow his body to compete at a professional level. He is back training and ready to get back to his winning ways.
Marco Arroyo will be fighing his second fight of his career. He looked impressive in his first win so we are expecting big things ahead for this prospect.
Full Fight Card
DOMONIQUE DOLTON vs RAMON BARAJAS
KEVIN TORRES vs MANUEL VALENZUELA
CARINA MORENO vs JUDITH VIVANCO
ANGEL VIEDAS vs MANUEL SANDOVAL
JORGE "TITO" RUIZ vs JOSE EDUARDO POOM
MARCO ARROYO vs ALBERTO MARTINEZ
KORAN PROCTOR vs ABRAHAM YOCUPICIO
RAFAEL SANDOVAL vs JOSE LUIS GOMEZ
AMIR ELSAEY vs JAIR AMARAL
Jorge "Tito" Ruiz returns to the ring after a year off due to a lung infection. He is looking to make a statement against Jose Eduardo Poom. Tito has a little chip on his shoulder as he lost his promotional contract while he was sick and now wants to show them they made a mistake. Also KO artist Kevin Torres is back in action after loosing his first fight. He is looking to get back on track against Manuel Valenzuela.
Most importantly We'd like to thank Borizteca Boxing Promotions out of San Diego for all their support over the years. They are truly an essential business partner dedicated to bringing more exposure to boxers. Last but not least we'd like to thank Alex Cano, our new CEO, and Lou Messina, our New Vice President of Boxing Operation, for all their dedicated time and effort in building Global Sports Streaming.
Watch our shows at bestinboxing.com and subscribe to exclusive content sports content at gsstreaming.com
We broadcast live on Fight Hub TV right here on
Youtube youtube.com/fighthub
Youtube.com/bestinmma
Follow us at instagram.com/gsstreaming
instagram.com/bestinboxing
facebook.com/bes_tin_boxing
facebook.com/gsstreaming
twitter.com/bestinboxnig
twitter.com/gsstreaming
Follow Fight Hub TV at youtube.com/fighthub