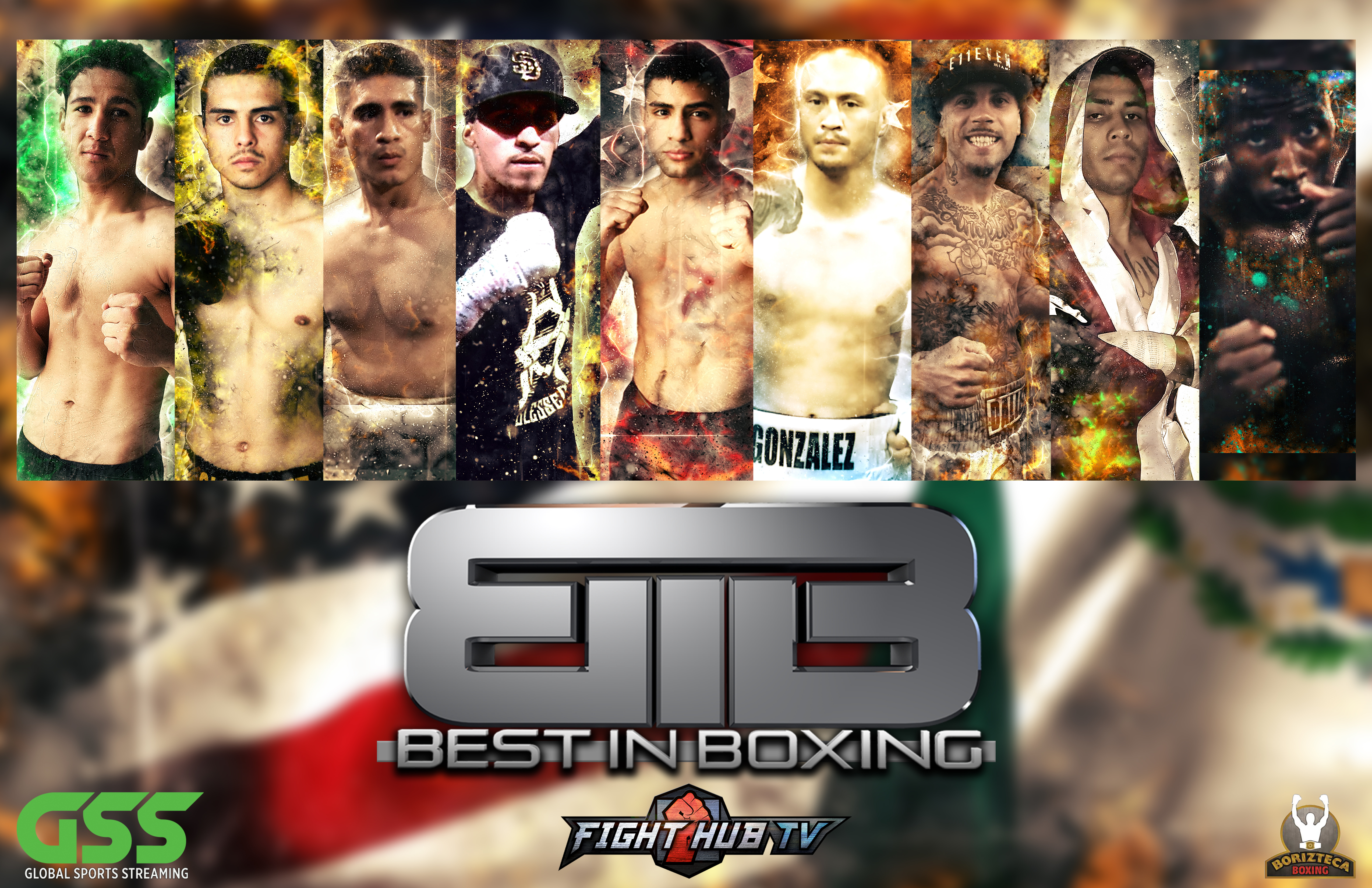 October 11th starting at 7:30 PM PST / 10:30 PM EST we start our next live stream on Fight Hub TV on Youtube.
Borizteca Boxing Promotions, our partner in SoCal, is moving from Tijuana, Mexico to San Diego, CA. Borizteca has partnered up with Bobby D. Promotions and House of Boxing to put together a great fight card. They've also partnered up with Team Canelo Alvarez who will be adding two fighters to the card.
The fight card has a few Best in Boxing veterans on the card. Fighters Kevin Torres, Ricardo Valdovinos, Adrian Gutierrez, Giovannie Gonzalez, and Jorge Marron Jr. have all fought on Best in Boxing. Kevin Torres and Ricardo Valdovinos with over 15 fights combined on Best in Boxing between them. All of them keep making the show because they are all action fighters and always entertain the fans.
Potential Fight of the Night honors will more than likely go to Ricardo Valdovinos vs Giovannie Gonzalez. Ricardo and 7-0-1 and Giovannie at 9-3 will be in each others faces all night long. We are really looking forward to this fight as well as our broadcast team. On the broadcast team we have Marcos Villegas, Chris Martin and Kevin Ottley. (We have a new member coming on board in November. We will get back to you soon about the big news.)
Here are the rest of the fighters on the card:
KEVIN TORRES vs TBD (Main Event)
RICARDO VALDOVINOS vs GIOVANNI GONZALEZ (Co-Main Event)
JORGE MARRON JR.vs GOZALO DALLERA
ADRIAN GUTIERREZ vs CARLOS HUERTA
LAZARO LORENZANA vs TBD
OLUWAFEMI OYELEYE vs TBD
SANTOS ORTEGA vs TBD
DARNELL PRICE vs TBD
We will be broadcasting on Fight Hub TV on Youtube as normal but we will also be simultaneously streaming to Best in Boxing Twitter, Best in Boxing Facebook, Global Sports Streaming Facebook, Global Sports Streaming Youtube and BestinBoxing.com.
We look forward to giving fans all the locations they need to be able to watch the show.