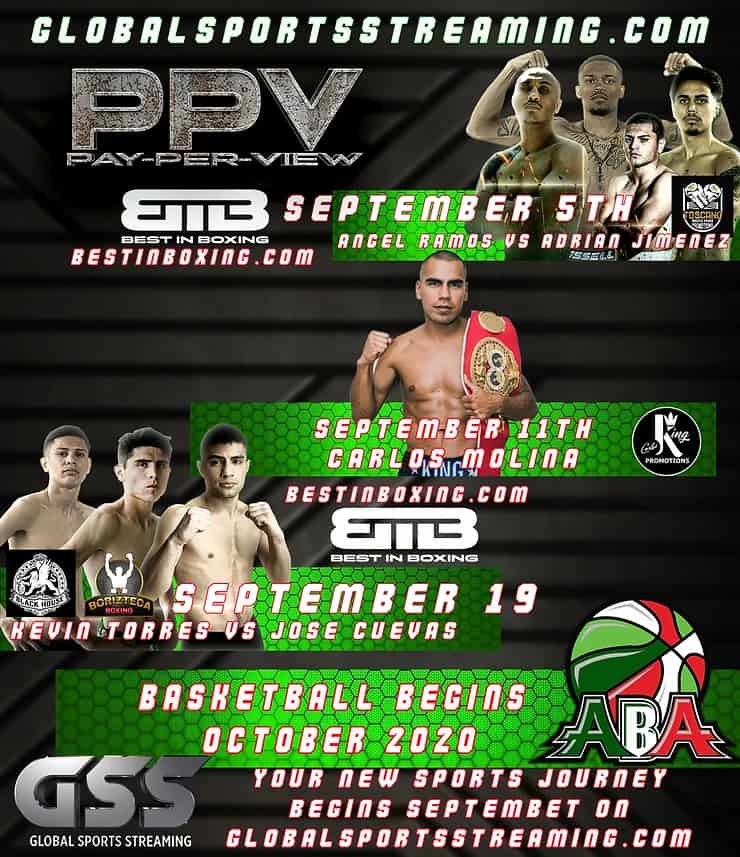 Our September schedule is out and we have three great shows on the schedule for all you fight fans. You can watch all the fights right here on globalsportsstreaming.com click on our PPV link to sign up and watch our shows.
We kick off the first weekend of September with Toscano Boxing Promotions and Angel Ramos vs Adrian Jimenez in the main event on Best in Boxing.
The full card
(PPV Card)
Main Event
Angel Ramos vs Adrian Jimenez
Co-Main Event
Dubiel Sanchez vs Angel Beltran
Giovannie Gonzalez vs Brandon Cortez
Manuel Jaimes vs Francisco Rubio
FREE fights on Fight Hub on Youtube
Jose Alvarado vs Daniel Acosta
Sergio Flores vs Noe Ontivevos
Wade Jones III vs TBD
Elvis Salazar vs TBD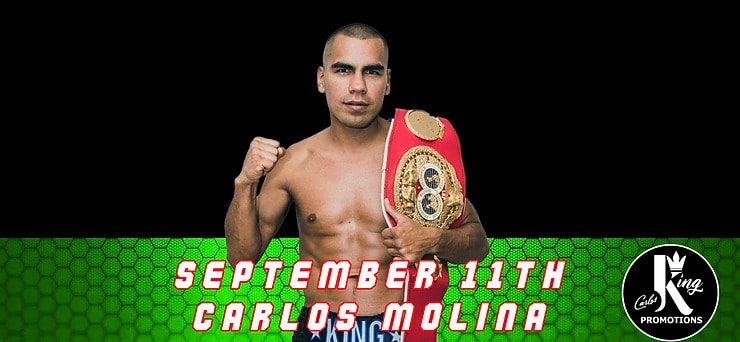 On September 11th we are excited to be working King Carlos Promotions started and owned by professional fighter Carlos Molina. This will be his third card live from Michoacan. Carlos has created a great show and we will be taking his live stream for our streaming service. This will not be a Best in Boxing show. We will have a full fight card information in a couple weeks. Carlos assures he has a great card in the making.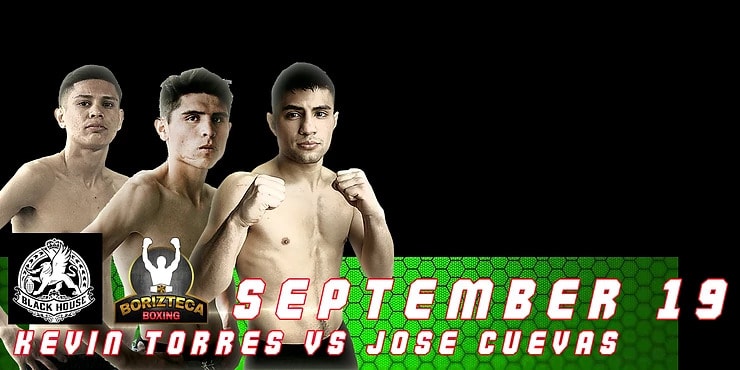 We are excited to be working with Borizteca Boxing Promotions and Black House Boxing to bring an amazing card for Best in Boxing. In the main event Kevin Torres vs Jose Cuevas. This will be Kevin Torres's toughest fight in the Cuevas. Jose at 21 years old has 13-1-1 with a 73.3% knockout percentage. Kevin has a 23 has a 77.8% knockout percentage so we have two knockout artists going head to head. This is going to be a fun main event. September 19 sees the return of Mario Ramirez. He is an all-action future superstar and we are excited to have him back on Best in Boxing. We will also see Salvador Cervantes return to Best in Boxing. He had his professional debut with us and we look forward to having his exciting skills back on the show.
In October we are really looking forward to the start of ABA Mexico first season. We recently closed our deal with ABA MX and we will be bringing the game of the week every Sunday starting October 4th. The shortened season will take place over October and November and the playoffs will start at the end of November. We are looking forward to a long fruitful relationship with the ABA MX. More information to come.
google-site-verification: google14ed6114078ae46c.html