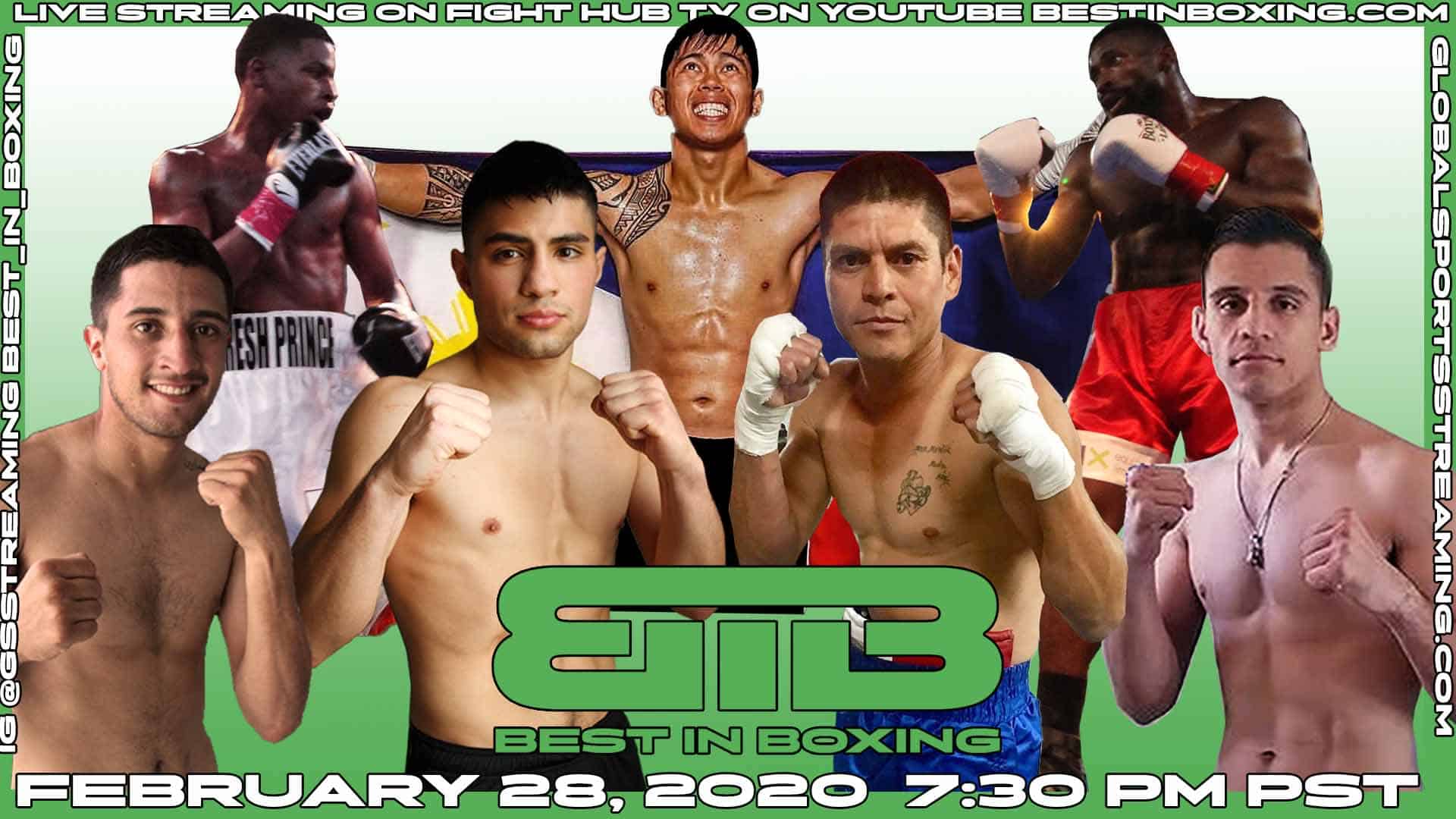 We are back for our first fight night of 2020 with Borizteca Boxing Promotions. We are broadcasting on Fight Hub TV on Youtube. We have a great partnership with Fight Hub and we are able to showcase fighters just starting out in their careers to over 750,000 subscribers. Our February 28th show starts at 7:30 PM PST live from Big Punch Arena in Tijuana, Mexico. We have a great first card of the year with the return of Kevin Torres in our main event. Kevin takes on veteran fighter Carlos Urrea. At 15-1-1 Kevin Torress is getting to the point where he needs to test his skill level to prepare for the tough fights ahead. Carlos has fought 38 times and is known as a tough fighter that gives a good fight and helps with the development of fighters on the rise.
Great fight undercard coming your way.
We also have an exciting fighter Jorge Brito who was signed by Zanfer Promotions last year. Elias Diaz makes his return to Best in Boxing after over a year off the show. We are really excited to have young prospect Nico Marchan makes his Best in Boxing debut. We expect big things from Nico as he is an extremely talented fighter just starting out in his career. Vince Parra, a championship trainer, has two new fighters to his stable on the card. Darnell Price is a former Marine sergeant who just turned pro at 28 years of age. He is a big cruiserweight and he has an amazing story. Definitely keep an eye on his career. Vince speaks highly of young prospect James Earle. He has extremely quick hands and under Vince's teaching, we can't wait to see where he ends up in his career. Here is our full bout sheet with all the fighters.
Bout Sheet
Main Event
Kevin Torres vs Carlos Urrea 6 Rounds Super Lightweight
Co-Main Event
Jorge Brito vs Juan De Jesus Angulo Gonzalez 6 Rounds Welterweight Elias Diaz vs Edwin Salcido 4 Rounds Welterweight Jorge Villegas vs TBA 6 Rounds Super Bantamweight Nico Marchan vs Jonathan Ramos 4 Rounds Flyweight James Earle vs Edson Torres 4 Rounds Lightweight Darnell Price vs Juan Carlos Galvan 4 Rounds Cruiserweight Salvador Cervantes vs Rigo Cruz 4 Rounds Flyweight Ben Alvarez vs Jorge Luna 4 Rounds Cruiserweight Adrian Alvarado vs Manuel Sandoval 4 Rounds Super Bantamweight Japhethlee Franc Degracia vs Jonathan Gonzalez Hernandez 4 Rounds Featherweight
Where to watch the show
Watch at www.bestinboxing.com and subscribe to exclusive content sports content right here on www.globalsportsstreaming.com We broadcast live on Fight Hub TV on YouTube.
We do multipoint streaming so that there are plenty of locations for you to watch Best in Boxing.
Where to watch?
1. Fight Hub TV on Youtube youtube.com/fighthub
6. www.globalsportsstreaming
Plenty of places for you to watch the live stream
Follow us at: